Entrepreneurs tackling racial inequality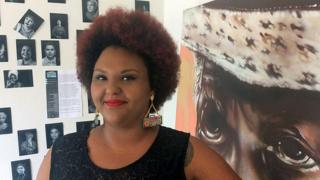 Being a black woman in an architecture studio in a posh neighbourhood in Sao Paulo was not always easy for Michelle Fernandes.
The former administrative assistant got on with her colleagues and bosses, and was always treated with respect.
But she often felt discouraged in her environment, being the only black worker in the entire building.
Liaising with clients could also be tricky.
"I used to talk to this one client on the phone a lot. One day he showed up and looked disappointed to meet me. He said: "I always pictured you as being a cute, white young woman."
"I felt I wasn't being given better opportunities, so I decided to quit and open my own business."
Ms Fernandes didn't want to open just any business. She wanted to do something which would help tackle a massive imbalance that many black workers find in Brazil's job market.
Lower salaries
Brazil is just starting to recover from a severe economic crisis which left 13 million people unemployed at its peak. And black and mixed race workers suffered the effects of recession worse than white ones.
While 9.9% of white workers are unemployed, among black and mixed race workers that rate stands at 14.6%. And that figure grew faster for black workers during the crisis.
Official statistics reveal that black workers have lower salaries and are more likely to hold informal jobs with lower schooling requirements.
A survey by Brazil's statistics agency IBGE suggests one quarter of all black and mixed race workers in Brazil are informal street sellers.
Finding work in a recession is tough. For young black workers entering the job market it is especially difficult.
So Ms Fernandes decided to be her own boss. She launched her own fashion brand, Boutique de Krioula, with a meagre $40 (£29) investment in the suburbs of Sao Paulo, where she lives.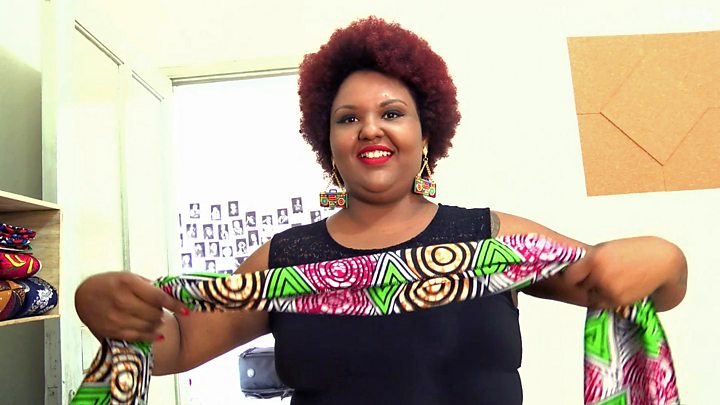 But making money was not her only motivation. Years of witnessing institutional inequality and even blatant racism made her want to tackle social issues.
"I wanted a business where I could be myself, with my afro hair and not be in a structure where I'd be told how to wear my hair or how to dress," she says.
"I have women friends who were hired in companies and given a voucher to go to a hairdresser, where they were supposed to get their hair straightened to look more 'professional'. That's racism."
The mission of her Boutique de Krioula brand is to promote African pride at an accessible price. Her line of head scarves and jewellery is now sold all across Brazil and exported to Argentina, the United States, Portugal and Angola.
All sales have been online but she is about to open her first physical store.
"This is about empowering black women in a country where our culture is not valued," she says.
At the top
Big business is also looking at the issue of racial inequality in the workforce.
Businesswoman Patricia Santos made it her mission to bring the issue to the attention of major players.
"We live in a country where black and mixed race people are 54% of the population, but only 35% of university graduates. If you look at Brazil's top 500 companies, black workers are 50% of apprentices, but we don't make it to the top.
"Six per cent make it to middle-management and only 4.7% become executives. This is structural racism," she says.
Her consultancy EmpregueAfro helps companies such as Monsanto, Bayer and BASF make sure they are not excluding black workers from opportunities.
Despite challenging conditions, Ms Santos is optimistic about the future.
Since 2004, Brazil has implemented strong affirmative action initiatives in universities. National guidelines also recommend that companies employ more black workers.
Ms Santos says those actions are now beginning to produce results in the economy.
During Brazil's economic boom, that lasted until 2015, 75 million black people emerged from poverty. Even though few of them joined the ranks of the upper economic classes, they now make up the majority of Brazilian consumers when measured by purchasing power.
'A better conversation'
"This is a big turning point for black people in Brazil. Now companies look at us differently. They see us as consumers.
"If companies employ more black workers they will have a better conversation with consumers that have been overlooked because of racism. And these companies can increase their sales and market share."
One of EmpregueAfro's clients is advertising agency J Walter Thompson, which works with major brands in Brazil such as Coca-Cola and Avon.
Ricardo John, chief-creative officer for the company in Latin America, says that despite the importance of black consumers to the economy, until recently his agency did not employ a single black worker. That is despite employing about 200 staff in Brazil in total.
Together with EmpregueAfro they came up with the 20/20 programme - a goal of employing 20% of black workers by 2020. More importantly they must be spread across all areas of the business, including management.
"We now understand our audience much better. Before the programme we only relied on our professional skills. Now we rely on real experiences," says Mr John.
The agency used to hire professionals who came from just a couple of elite universities, whose students are overwhelmingly white. Now it is expanding its hiring pool.
The change is apparent at other firms and is not just driven by economics, both Ms Santos and Ms Fernandes say.
"New black generations in Brazil have a new empowered attitude that people did not have in the past," says Ms Santos. "They will not accept things as they are."