Trump tariffs: President says EU makes business 'impossible'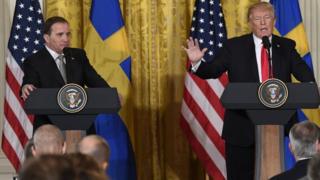 US President Donald Trump has said European Union trade rules make it "impossible" for American firms to do business with the bloc.
Defending his tariff plans as he hosted the Swedish PM at the White House, Mr Trump said other countries had "taken advantage of" the US for decades.
Shortly afterwards it was announced that White House economic adviser Gary Cohn, who opposes tariffs, would quit.
The EU has drawn up a $3.5bn (£2.5bn) hit list of retaliatory tariffs.
Motorbikes, whiskey and T-shirts are on the bloc's list of 100 American products, the BBC understands.
The US president's proposed global duties on steel and aluminium have raised the prospect of a tit-for-tat trade war.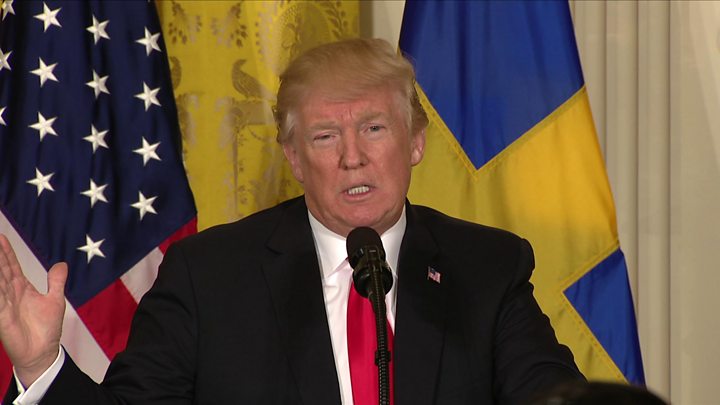 "The European Union has been particularly tough on the United States," Mr Trump said at Tuesday's joint press conference with the Swedish prime minister.
"They make it almost impossible for us to do business with them," Mr Trump complained.
Mr Trump said if the EU retaliated, the US would impose a 25% tax on European cars.
But the US president also said America would levy tariffs in a "loving, loving way".
"They'll like us better and they'll respect us more," he said about US trade partners who object to the plan.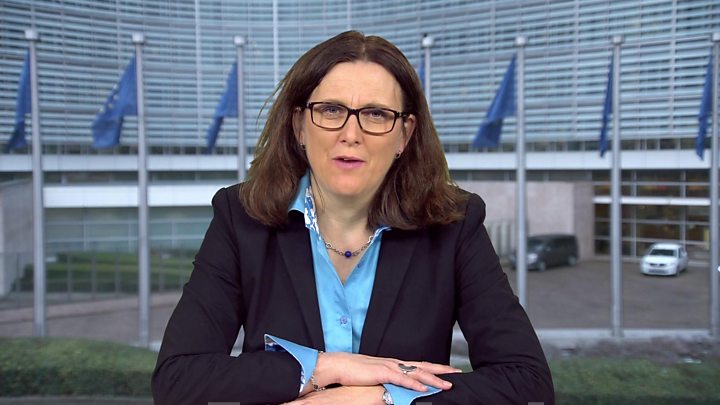 Mr Trump repeated his belief that the US would win any trade war, since it was running such a large trade deficit.
"When we're behind on every single country, trade wars aren't so bad," he told reporters at the White House.
Mr Trump's decision to raise import taxes on steel to 25% and aluminium to 10% prompted strong reactions around the world last week.
Swedish PM Stefan Lofven said: "I am convinced that increased tariffs will hurt us all in the long run."
Mr Lofven is the first European leader to visit the White House since the tariffs were announced last week.
Members of Mr Trump's Republican party have voicing disquiet at his proposal.
Just before Mr Trump spoke, Senate leader Mitch McConnell said: "There is a lot of concern among Republican senators that this could sort of metastasise into sort of a larger trade war."
Earlier on Tuesday, Speaker of the House Paul Ryan said the tariffs were too broad.
He urged Mr Trump "to be more surgical" when selecting which countries to target "so we do not have unintended consequences".
Congressman Mark Meadows, who chairs the ultraconservative Freedom Caucus, said most lawmakers had told him they did not support the president's decision.
Mexican Economy Minister Ildefonso Guajardo said his country was planning its own tariffs on US goods.
He said they would issue them in a way that is most politically damaging to Mr Trump.
"We would have to target our response at the things they export that are most politically sensitive and hit exactly those goods," he told Mexican broadcaster Televisa.
More on Trump tariffs
EU eyes tax on Levis amid US trade row