Online sales surge boosts Zara owner Inditex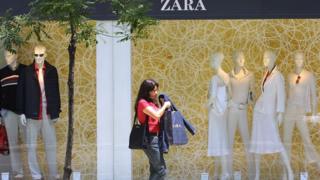 A 41% jump in online sales for the owner of Zara helped drive higher sales and profits last year.
Inditex, which also owns brands including Pull & Bear, Bershka and Massimo Dutti, said a tenth of its sales were online in 2017.
It was the first the time Spanish company has broken out figures for online sales.
Like-for-like sales, which excludes new store openings, rose 5%, while net sales were up 9%.
Net profits were 7% higher at €3.37bn on revenues of €25.34bn.
Its 88,000 staff worldwide will share a €562m (£499m) bonus pool.
The 10% figure for online sales is not far behind the 12% for Swedish rival H&M, but is far lower than the 40% for the UK clothing chain Next.
Inditex chief executive Pablo Isla said it had been a year of "solid growth", with recent investment in technology and logistics leaving the company well placed for continued progress.
During the year the company spent €1.8bn, much of which went on further integrating its stores and online businesses in each market.
At the end of the financial year Inditex had 7,475 stores worldwide, a net increase of 183.
It opened its first stores in Belarus and launched Zara online sales in India, Vietnam, Singapore, Thailand and Malaysia.
Zara's online stores in Australia and New Zealand start trading on Wednesday.
Inditex websites had 2.42 billion visits in 2017 and serviced as many as 249,000 orders an hour.
Shares rose 3.83% in Madrid to €25.19 but are down about a quarter over the past 12 months.
'Strong support'
German sportswear brand Adidas also benefited from a leap in online sales.
It its full-year results, it said revenue growth had been driven by double-digit increases in all distribution channels, with "particularly strong support" from e-commerce, where revenues grew 57%.
In euro terms, sales rose by 15% to €21.22bn, up from €18.5bn in 2016.
Operating profit more than tripled to €132m in the final quarter of last year, but the group reported a net loss of €41m million as a result of a tax hit of €76m, due to changes to the US tax code.
On Tuesday, Adidas had announced a big share buyback.
Its shares rose by more than 9% on Wednesday, having fallen by 15% over the past six months.