Hurricanes push Lloyd's of London to £2bn loss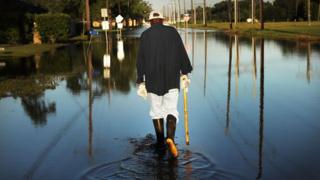 Lloyd's of London has reported its first annual loss in six years after "one of the costliest years for natural disasters in the past decade".
The insurance market said pre-tax losses reached £2bn last year - a sharp reversal of the £2.1bn profit in 2016.
As well as hurricanes Harvey, Irma and Maria, Lloyd's paid out on claims after wildfires in California, an earthquake in Mexico and flooding in Bangladesh.
It paid a total £18.3bn in claims, £4.5bn of which was for the disasters.
"The market experienced an exceptionally difficult year in 2017, driven by challenging market conditions and a significant impact from natural catastrophes," chief executive Inga Beale said.
The US hurricanes were particularly costly for Lloyd's as the US accounts for 40% of the market's business.
"To date, the market has paid more than 50% by value of the claims notified in relation to Harvey, Irma and Maria, and is in the process of paying the rest," Lloyd's chairman Bruce Carnegie-Brown said.
Lloyd's of London was one of the first businesses that employs more than 250 people to report its gender pay gap.
The group described the 27.7% pay gap as "nothing to be proud of".
Commenting on businesses who are yet to report and speculation that some firms are manipulating data on gender pay, Ms Beale told the Today programme: "What I would like to see is full transparency overall on this."
"We should all own up."
She said: "If we've got firms that are not revealing all of their data, either they're putting individual employees into entities that employ less than 250 people, when they don't have to declare it or they're not including their partners.
"I think what large accounting firms have done in coming clean, including their partner data, is exactly the right thing to do."