Pubs in danger: Six charts on how the British drink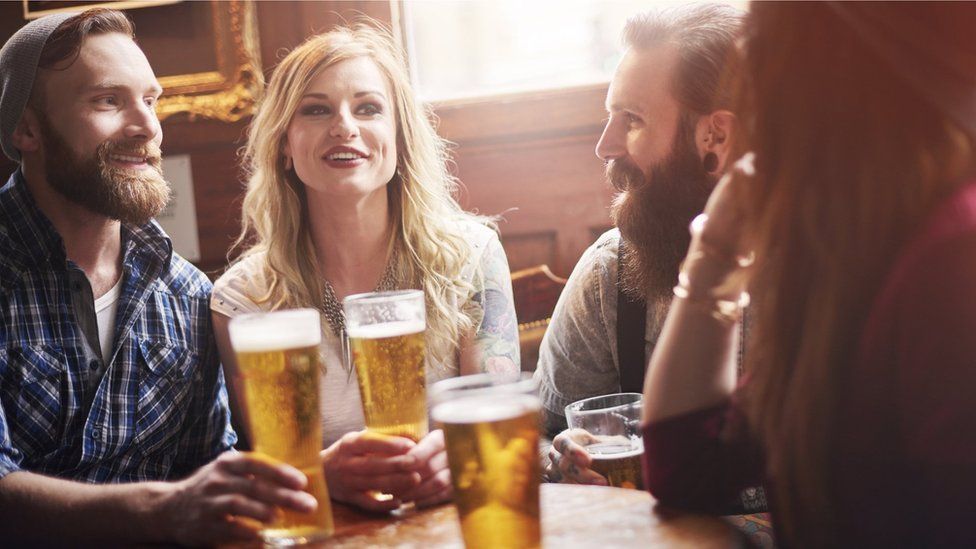 Across the UK, people are spending more money on gin and craft beer, and there are more breweries open today than there were in the 1930s.
So how are UK drinking habits changing? What are the UK's favourite drinks and how often are adults drinking?
1. Pubs are closing their doors
In 2016, 500 pubs across the UK called last orders for the final time.
The decline has been blamed on a number of reasons - high taxes on pints, the smoking ban, the price of food and drink going up, and the 2008 recession meaning that consumers had less to spend in their local.
But the BBPA say that the rate of pub closures is slowing down.
About 1,100 pubs closed their doors in 2015, but fewer than half that number closed in 2016.
2. More beer bought in shops than pubs
The volume of beer sold in supermarkets and off-licences (off-trade) in the UK topped the volume sold in pubs, clubs and restaurants (on-trade) for the first time in 2014.
Since 2000, the amount of beer people are buying in supermarkets and shops has increased by 27%.
Measuring affordability using an index which adjusts prices for inflation and income growth, the IAS reports that the affordability of wine and spirits has gone up by 131%.
But prices in pubs have been rising steadily.
According to the BBPA, the average pub price of a pint of draught lager cost £3.58 on average in 2017, up 36% on 2007.
3. Adults are drinking less often
In 2016, 57% of British adults said they drank alcohol in the week before being interviewed.
Since 2005, there has also been a 2% increase in the number of adults who say they don't drink alcohol at all - around 10.6 million people in the population of Great Britain.
Young people are the least likely to have drunk alcohol in the last week, and 27% of 16-24 year olds describe themselves as teetotal. But that age group is also the most likely to "binge drink" on their heaviest drinking day.
Most women surveyed (27%) reported drinking between three and six units of alcohol on their heaviest drinking day - down from 33% a decade before.
Among men in Great Britain, most (33%) drank between four and eight units of alcohol on their heaviest day. This was a drop from 40% in 2006.
For women, binge drinking was defined as exceeding six units, whereas for men it meant consuming more than eight units of alcohol.
The ONS also note that the survey data is likely to underestimate drinking levels, because people might underestimate their alcohol consumption.
4. Drinking habits vary across the UK
In 2016, England had the highest percentage of people who said they drank alcohol in the week before they were surveyed, at 57%. This was down from 59% in 2015.
Three in four people in the south-west of England had drunk alcohol in the previous week, higher than all of the other English regions, while fewer than half of Londoners had partaken.
A total of 55% of drinkers in Wales enjoyed a tipple in the previous week according to the 2016 figures, a drop from 58% in 2015.
The survey also found that people in Scotland drink the least often in Great Britain - 53% of adults had drunk in the previous week in 2016, compared with 57% surveyed the year before.
The Scottish were however the most likely to report that they "binged" on their heaviest day of drinking, at 32% of drinkers, followed by Wales (30%) and England (26%).
Sales of gins and craft beers have increased recently.
Last year, the ONS put gin in the basket of goods it monitors to measure inflation (how much the cost of living is changing in the UK).
Once known as "mother's ruin", gin sales topped £348m in the UK in 2016, almost three times the £126m total in 2009.
As demand for artisan-style beers has increased, more microbreweries have been popping up across the country.
There are now 2,000 breweries in the UK - the highest number on record since the 1930s, according to Camra.
The number rose by 64% in four years, from 1,218 in 2012, to 1,994 in 2016.
6. Pubs are more family-friendly
Children are now an accepted presence in many pubs - something that would have seemed unthinkable a few generations ago.
In 1995, the ban on children under 14 going into pubs in England and Wales was lifted. Many pubs took this as an opportunity to remodel themselves as more family-friendly and food-focused.
According to retail researchers Mintel, pub meals recorded an estimated 3% increase in sales to £7.4bn in 2016, while the volume of alcoholic drinks consumed in bars and pubs went down in the same year.
Pubs are now becoming all-day dining destinations, with special offers for younger visitors. Children's menus, play areas and separate dining rooms for families are often seen in British pubs.
However, this change has not gone entirely without resistance.
Children's behaviour topped the list of complaints by pub regulars in 2016, according to The Good Pub Guide.
Details of organisations offering information and support with issues relating to alcohol are available at bbc.co.uk/actionline