Can the ad industry persuade us to eat more vegetables?
By Lucy Hooker
Business reporter, BBC News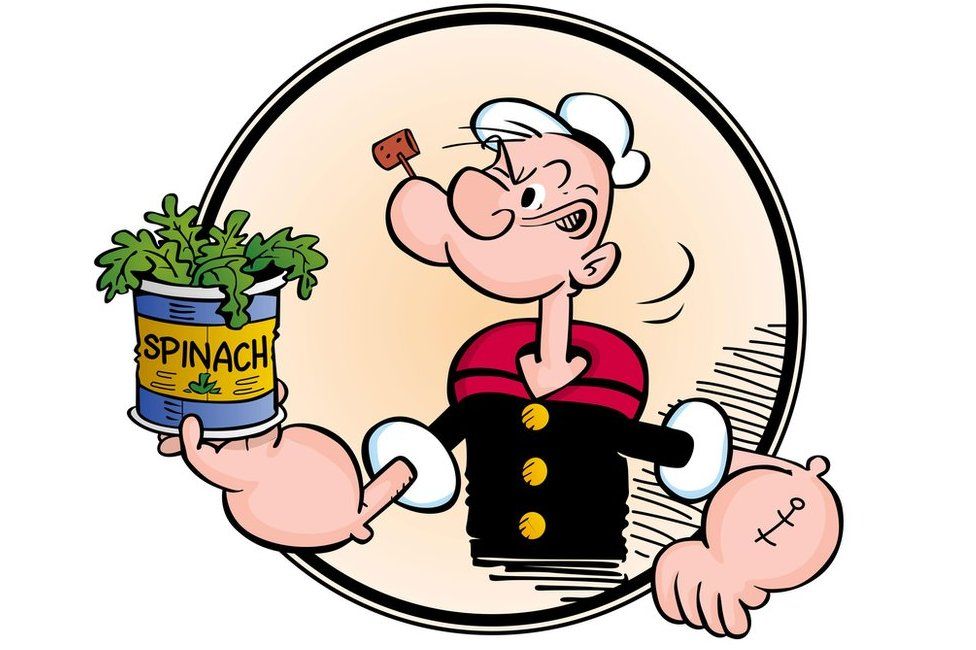 Advertisers are the experts at persuading us to eat burgers, crisps and fizzy drinks. But what if they tried to sell us something healthier?
Popeye may be half the size of his arch-rival Bluto, but one gulp from his can and he is tossing his enemy high overhead, wrapping him up in rope, or bopping him round the head with those trademark pumped up forearms.
Popeye's green-veg-fuelled antics were credited with boosting US spinach sales by a third during the Great Depression of the 1930s.
Cities in spinach-growing regions erected statues of the sailor man-hero out of gratitude. And a generation consumed more vitamins than they would otherwise have done.
These days, though, without a frontman like Popeye, vegetables don't get much of a look-in on the marketing front. In the UK only 1.2% of all advertising spend on food is aimed at promoting vegetables, according to campaign group the Food Foundation.
Former ad man Dan Parker thinks we're missing a trick. He says it's time once again to deploy the weapons of the marketing industry in the battle to shift us to healthier diets.
Working in conjunction with campaign group Peas Please and backed by chefs Hugh Fearnley-Whittingstall and Jamie Oliver, the plan is to roll out an advertising campaign that will radically alter our perceptions of vegetables.
"At the moment vegetables are the bad guys. We don't want them to be the bad guys," he says.
There'll be no more "playing the health card", he says, like Public Health England's five-a-day message, which only serves to make eating veg feel like a chore.
"People don't buy health, they buy happiness. That's a mantra for all advertising," he says.
Dan's own transformative spinach-gulping moment came when after 20 years in the industry, working for the likes of McDonald's and Coca-Cola, he discovered he had type 2 diabetes.
His job had been to use every possible psychological and creative technique to persuade people to eat more of the food products his clients sold.
In his words advertisers like him were "arrogant, ignorant, blinkered," with no idea of the harm their work was causing.
In a light bulb moment, he realised the lessons he had learned through marketing fizzy drinks, burgers and chips could help turn the tables and persuade us all to eat more healthily.
He closed down his advertising agency and founded a new charity, Living Loud, with others from the industry.
After all who knew better than he did what makes people eat what they eat?
Most important of all these tactics, he says, is "normalising".
For decades the food industry has played on our desire to fit in, a strategy that has already stealthily altered our eating habits.
We've been persuaded that a mid-morning and mid-afternoon snack are part of everyone's day, and that it's normal to have frozen pizza and ready-meals in your shopping trolley, and you don't watch television in the evening without a snack to hand.
Now, says Dan, advertisers are busy feeding us the message that eating larger portions is OK, even a bit cheeky and fun. Walkers crisps ads show Gary Lineker eating a bumper pack on his own, and a Galaxy chocolate ad suggests it's ok for Audrey Hepburn to eat a family-sized bar.
If advertisers can normalise these habits, there's no reason they can't normalise a portion of veg on your plate too, says Dan.
Frozen food giant Birds Eye, one of the few companies that spends money marketing vegetables, is supporting the Peas Please campaign and is increasing its own ad spend by 42% this year to £4.8m. Normalising frozen veg is at the core of their message.
While there will be "infomercials" about healthy eating on social media, and portraits of the farmers behind their frozen peas, the TV campaign focuses on telling "the story of families coming together at the moments when Birds Eye veg is served up at home".
For Dan Parker, however, that message doesn't quite go far enough. He would like to see the wider Peas Please campaign pack more of an emotional punch.
"Great advertising stirs emotions. That's its point," he says. "If you're in an emotional state then you are more susceptible to subliminal messaging, you're easier to influence and more likely to buy without giving thought to diet or budget."
Whether it's stress and comfort, celebration and reward, relief or nostalgia, there are ways to sell us food to meet our emotional impulses.
Impulses often subtly planted by advertisers.
Ideally he'd like to see an ad that does for veg what the "I want to teach the world to sing" ad from the 70s did for Coca-Cola. It offered almost no information about the product. Instead it gave viewers "a cause for celebration, a sense of togetherness with a contemporary hippy vibe".
In that same vein, Damon McCollin-Moore at creative ad agency Ifour points to the recent Nike ad showing Londoners, plus a smattering of celebrities, overcoming different challenges to get to their training sessions.
He describes it as "a hymn to London" which sends an unspoken message that Nike customers are resilient and adventurous.
The holy grail would be creating something that makes us feel rather than think differently about veg.
In the meantime, Ifour has already had a go designing an ad for veg on behalf of Peas Please which showed a cartoon boy playing with his carrots, holding them up to his head, to look like Batman.
"We're not trying to make any outlandish promises," says Ifour's creative director, Graeme Hall. "It is just raising the idea veg can be fun."
The image they created was simple but it offered the chance to tap into another great marketing ploy: participation.
School children (such as those pictured from Pentrefoelas Community School in Wales), chefs and whole teen football teams, posted pictures of themselves on social media having a bit of fun holding carrots to their heads.
Graeme says current marketing fashion is to convince consumers the whole thing is about them, rather than about the product, whether that's through quizzes, personality tests or shareable memes.
He also thinks "trinkets and collectibles" like McDonalds gives away with its meals for kids could help to make veg more fun.
But if it came to TV advertising, his colleague Damon thinks the way to go would be a series of "life hack" videos, showing parents ways to "get one over on their kids".
They suggest a narrative revolving around a celebrity, one who is relatable for ordinary people and emphatically someone not associated with healthy eating, and show their mother sneaking vegetables into their dinner.
"You could have an adult child, like Miranda Hart, and have her mum cooking for her. She could be tricked over and over again into eating vegetables," says Damon.
The irreverence and humour might go some way to supplanting the burdensome image veg has earned in recent years, he thinks.
And if that idea rings a bell with older consumers, it's not perhaps a surprise. Tony Hancock was being told to "Go to work on an egg", by his bossy housekeeper five decades ago.
And she always got one over on him in the end.