Ex-BHS boss Dominic Chappell faces directorship ban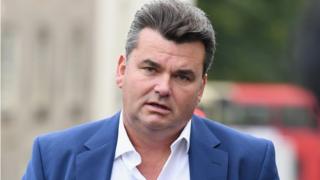 The Insolvency Service says it will take steps to have former BHS owner Dominic Chappell banned from holding directorships for up to 15 years.
Three other former BHS directors also face a ban, but the Insolvency Service added it would not seek to have Sir Philip Green disqualified.
It said as the matter may now go to court it was not "appropriate" to comment further.
According to PA, Mr Chappell said he had not been notified of the decision.
In a statement, the Insolvency Service said: "We can confirm the Insolvency Service has written to Dominic Chappell and three other former directors of BHS and connected companies informing them that we intend to bring proceedings to have them disqualified from running or controlling companies for periods up to 15 years.
"We can also confirm that we have written to Sir Philip Green, also a former director of BHS, informing him that we do not currently intend bring disqualification proceedings against him," it added.
The Insolvency Service is an executive agency of the Department for Business Energy and Industrial Strategy.
BHS was sold by Sir Philip's Arcadia Group - which includes Miss Selfridge and Dorothy Perkins - for a nominal £1 in 2015 to Retail Acquisitions, run by former bankrupt Mr Chappell.
The company went into administration in April 2016. When it collapsed its pension scheme had a £571m hole, far higher than the retailer's market value.
Following the announcement from the Insolvency Service, Sir Philip's spokesperson said: "Sir Philip and his fellow directors have co-operated fully with the Insolvency Service since its investigation commenced in May 2016, and welcome this decision."
Last month, Mr Chappell was fined £50,000, plus £37,000 in costs, for failing to provide the Pensions Regulator with information about the collapsed chain's pension schemes.
The Pensions Regulator had already reached a deal with Sir Phillip Green to shore up the company's pension scheme with an extra £360m.
However, the pension payments will still be lower than expected, and in January the regulator ruled that Mr Chappell should make a £9.5m contribution to the BHS scheme as well.