Decision day for GKN as shareholders vote on its future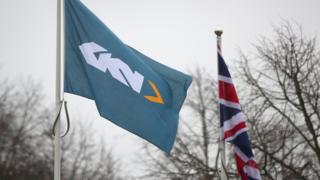 By one o'clock this afternoon the fate of Britain's biggest engineering group, GKN will be decided.
Investors will have voted on whether it is to stay independent or come under the control of turnaround specialist Melrose Industries.
It is the biggest UK hostile takeover bid since Kraft took over Cadbury's in 2010.
Several investors have already said which way they will jump. But they appear evenly divided.
Why is GKN important?
GKN is about as good an advertisement for British engineering as you can get.
Its roots lie in the 18th century industrial revolution and there's not much it hasn't had a hand in making, from cannonballs for Wellington's army to Spitfires, Minis and the Ariane 5 rocket.
Its Driveline business makes systems for roughly half the world's passenger cars and light trucks. VW, General Motors and Fiat Chrysler are all customers.
And it is big in defence, a major supplier to the US military and a key partner on defence programmes such as the F-35 joint strike aircraft in which the UK government has a stake.
However, it's not quite as British as it looks. Its head office is in Redditch in Worcestershire, but of GKN's 58,000 employees, only 6,000 work in Britain. The rest are spread around 30 countries.
Why does Melrose want to buy it?
At the end of last year GKN seemed to have got itself into a mess.
In October it warned profits would be lower than expected, and there was another warning in November. The company announced there was going to be "detailed review" of its US aerospace business and the division's head, Kevin Cummings, would resign.
In the end the results came in better than expected, but there was still an underlying problem - GKN simply wasn't as profitable as it ought to have been. Margins had fallen to 6.4% from 8.2%, and Melrose believed it could do better.
So in January Melrose launched its bid, initially at £7bn, increased this month to £8.1bn, with up to another billion offered to help out the pension fund.
It says it will keep the business together - for now. Its target, it says, is "to re-energise and re-purpose GKN's operations". It says it can beat GKN's own 10% target when it comes to profit margins.
What is Melrose Industries?
Melrose Industries is a British-based "turnaround specialist", listed on the London Stock Exchange with a market capitalisation over £4bn.
Its strategy is to find "good manufacturing businesses with strong fundamentals" and then "buy, sell, improve" them within three to five years.
Its string of turnaround successes has been hugely profitable. If you had invested £1 in Melrose in 2005 it would be worth £18 today.
Executive chairman of Melrose, Christopher Miller wrote to GKN shareholders explaining his strategy and insisting his firm was not an asset-stripper. "Unlike private equity companies, we do not rely on debt to boost returns and use only modest and prudent levels of leverage, well within UK industrial norms."
But Melrose's record has been tarnished of late by problems at the manufacturer Brush, which it bought eight years ago and where it has invested some £96m. Earlier this month it started negotiations with unions to lay off over a third of its British workforce in Leicestershire.
How has GKN responded?
GKN has proposed far more drastic changes than anything Melrose is suggesting. It will, it says, split itself in two, sell non-core businesses, concentrate on its aerospace division and take steps to revive its margins.
Driveline would merge with the American car components group Dana to create a new company. GKN would get a 47% stake in it and $1.8bn (£1.28bn) in cash from Dana.
This new business would be listed on the New York and London stock exchanges. That, says GKN, would give it the wherewithal to hand shareholders £700m "as soon as practicably possible".
Over the next three years it hopes to return in total £2.5bn cash to investors.
In answer to Melrose's bid GKN said: "Melrose is not the right owner for GKN. It lacks experience in relevant high technology businesses and of investing for the long-term. GKN is a much larger and more complex business than anything acquired by Melrose in the past."
Melrose said GKN's reaction was "panicked and fraught with contradictions".
Who else is worried by the bid?
The Unite union is not happy. In a letter to GKN shareholders it said: "GKN is a major tier one supplier in the automotive and aerospace sectors.
"This means that the company needs to work closely both with manufacturers and with government and make significant investments in innovation for the future.
"These are cyclical industries, and Melrose's experience with Brush has not demonstrated that they have the ability to react to these cycles."
Some of GKNs customers are also worried. Airbus said it would be "practically impossible" to give new business to GKN if the takeover went ahead because it damaged long-term investment prospects in GKN, which could reduce research and development (R&D) budgets and limit innovation.
The government has also stepped in.
Greg Clark, the Business Secretary, wrote a letter to Melrose asking for "commitments, which would need to be binding in the event that your bid was successful". These include maintaining the workforce, headquarters and R&D in the UK, and not selling defence businesses off in the short term.
In reply Melrose said it agreed with the Business Secretary's requests and added: "Melrose has offered a legally binding commitment to the secretary of state to stand behind its intention to hold the GKN aerospace business as it delivers the improvement necessary to unlock its potential."