Reckitt Benckiser cuts boss's pay for second time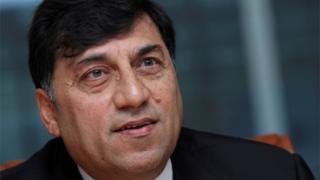 Reckitt Benckiser, the maker of Durex condoms and Gaviscon, has cut its chief executive's pay package for the second time in two years.
Rakesh Kapoor received total compensation of £12.5m in 2017, down from £15.3m in 2016, after the firm underperformed.
Without the reduction for 2017, he would have received £23.7m.
Reckitt Benckiser has previously been accused of having excessive pay levels.
According to Reckitt, Mr Kapoor volunteered to take the cut "based on the [remuneration] committee's evaluation of performance in the round and alignment of pay outcomes with the shareholder experience."
"We recognised that 2017 was a challenging year," said Mary Harris, chair of the remuneration committee.
It follows a slowdown at the consumer goods company, whose shares have fallen more than 25% this year. Sales were flat in 2017 due to pricing pressures and one-off events, including a major cyber attack.
Complaints
Mr Kapoor's 2016 package was itself slashed by 39% after a safety scandal that engulfed its South Korean division.
And even the year before, 2015, there had been complaints about his £25.5m salary, which made him Britain's third-highest paid boss.
According to the High Pay Centre think tank, the average chief executive pay at a FTSE 100 company was £4.5m in 2016. Figures for 2017 have not yet been released.
With a market value of £59bn, Reckitt Benckiser is the 15th biggest company in the FTSE 100 index.