GKN takeover concerns to be assessed by government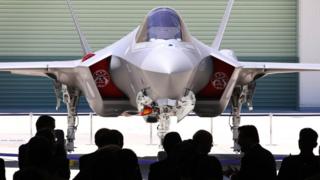 The government will assess whether the takeover of British engineering giant GKN raises public interest concerns, the business secretary has said.
Shareholders have accepted a hostile bid of £8.1bn from investment firm Melrose Industries.
Unions want the deal to be blocked on national security grounds.
Business Secretary Greg Clark told BBC Radio 4's Today programme he would not give a view until he had considered all the evidence.
The battle for GKN, which employs 58,000 staff worldwide - 6,000 of them in the UK - drew protests from government, unions and GKN customers.
Labour called Melrose a "short-termist asset-stripper" and condemned the deal for one of Britain's oldest engineering firms, which has had a hand in making everything from Minis to Spitfires.
Melrose Industries, which specialises in turning round troubled manufacturing businesses and selling them on, won the backing of 52% of GKN shareholders.
The British firm has promised to keep the company headquarters in the UK, maintain current levels of R&D spending, and to not sell the aerospace business for five years.
Mr Clark said it was "good" Melrose had made those "legally binding" commitments but the government now had a statutory responsibility to consider whether the merger gives rise to public interest concerns.
Lord Heseltine, the former defence secretary, said it should be stopped on national security grounds, adding that "no other country of our sort would have allowed this to happen".
There are worries that Melrose could sell GKN's aerospace business, which is involved in defence programmes, to an overseas buyer in the future.
However, Mr Clark refused to be drawn on whether he believed there were national security concerns about the bid because he needs to act "objectively".
He also dismissed Lord Heseltine's claims that other countries would block such a takeover, saying "our practice is very consistent with those of other competitors".
He added that the shareholders had made their choice and "decided they want a new management".
He also played down concerns over speculators buying up shares to swing the vote, saying investors who had recently sold up had effectively chosen not to back the company's management.
Labour leader Jeremy Corbyn wrote on Twitter that the Conservatives "had put the interests of City speculators over people's jobs" and a Labour government would have stopped the takeover.
---
Analysis
By BBC Business reporter Rob Young
The business secretary has defended the existing rules governing takeovers, and is clearly pleased with the guarantees he managed to get out of Melrose.
Listening to Greg Clark's radio interview, it was clear he thinks shareholders should determine the fate of the companies they own.
He said it is the "narrow question" of national security that he will consider.
Would Melrose's (five-year?) ownership of GKN threaten UK national security? Unions think so.
However, the vast majority of GKN's work is for civilian purposes, not military.
GKN is not listed as one of the Ministry of Defence's top 50 suppliers. But it makes components for the Eurofighter Typhoon fighter jet (made by BAE and Airbus) and the A400M military aircraft (made by Airbus).
GKN's US defence business is much more significant.
A US committee is still determining whether to give approval to Melrose to act as a provider to the US military. Melrose clearly expects it will get that approval.
Could the US say "yes" and the UK "no"?
Some City analysts doubt a national security argument can be made to block this takeover.
---
Admitting defeat, GKN's management said it would now work with Melrose to ensure the success of the new company.
GKN's board had promised it would overhaul itself and sell off its car parts division, but it was not enough to stop investors agreeing to sell their shares to Melrose.
Christopher Miller, chairman of Melrose, said: "We are delighted and grateful to have received support from GKN shareholders for our plan to create a UK industrial powerhouse with a market capitalisation of over £10bn and a tremendous future."
News of the successful bid sent GKN's share price up over 6% to 450p. Melrose's offer is equivalent to 462p a share.
GKN's businesses cover aerospace and automotive engineering. Its Driveline division makes systems for roughly half the world's passenger cars and light trucks.
Its aerospace division is a major supplier to the US military and a key partner on defence programmes such as the F-35 joint strike aircraft in which the UK government has a stake.
Unite union's assistant secretary general, Steve Turner, said Mr Clark should use legal powers to intervene in the deal.
Before Melrose won the bid, Airbus, which is supplied by GKN, said it would be "practically impossible" to give new business to GKN if Melrose's offer was accepted because it damaged long-term investment prospects in the company, which could reduce R&D budgets and limit innovation.
Bid launched
Melrose launched its bid in January, initially at £7bn. It increased that this month to £8.1bn, with up to another £1bn to support the pension fund.
It argued that it could increase GKN's profitability which has been falling steadily over the last five years.
In the run up to the bid, GKN had also suffered a crisis of leadership, with its chief executive-in-waiting, Kevin Cummings, forced to step down after problems in the company's US aerospace division.
The new chief executive, Anne Stevens, a former Ford executive, devised a plan to merge GKN's Driveline with the US car components group Dana to create a new company. GKN would have got a 47% stake in it and $1.8bn (£1.28bn) in cash from Dana.
But Melrose called the plans "panicked and fraught with contradictions".