What is Spotify really worth?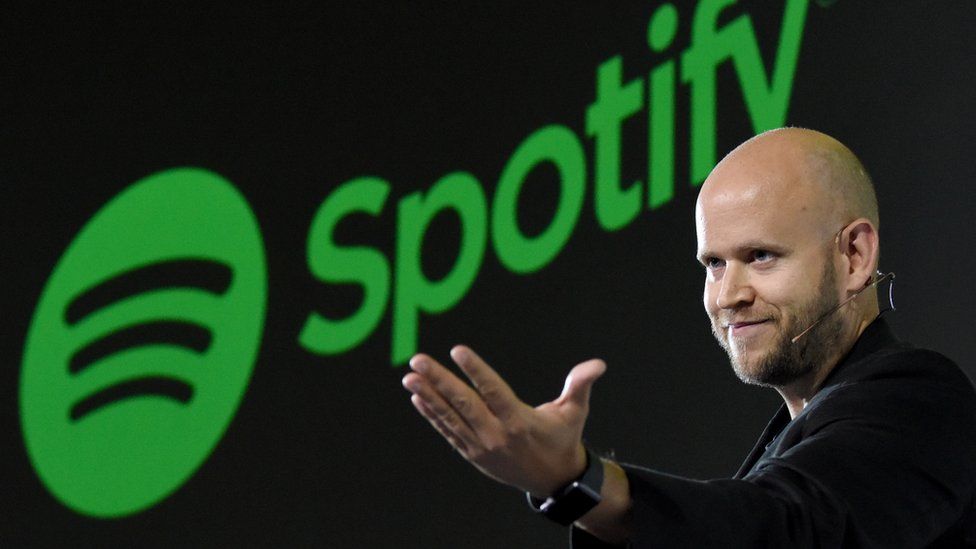 Shares in Spotify have started trading in the New York, valuing the music streaming service at about $26bn.
In an unconventional move, the firm has not issued new shares, with those held by its private investors being sold.
The flotation marks a turning point for Spotify, which is the global market leader but is yet to make a profit.
In an open letter, chief executive Daniel Ek said: "We are still early in our journey and we have room to learn and grow."
Once an small upstart Swedish music platform, Spotify has grown rapidly in recent years, adding millions of users to its free-to-use ad-funded service and converting many of them to its more lucrative subscription service.
It is now the global leader among music streaming companies, boasting 71 million paying customers, twice as many as Apple Music.
So far costs and fees to recording companies for the rights to play their music, have exceeded Spotify's revenues, although that gap is narrowing.
Why is Spotify listing its shares?
The firm made a commitment to investors who backed it as the company was growing, that they would be given the chance to cash in their investment. So Spotify had to list its shares sooner or later.
But it could also herald a new phase for the firm.
Being publicly traded will put pressure on the management, and could provide the excuse they need to make changes, says Mark Mulligan at at MIDia Research.
"Once you're a tech stock - more than with a normal listed company - [investors] expect you to do stuff fast, change fast," he says.
"So far they've been treading a very fine line between being the dramatic new future of the music business but simultaneously being the biggest friend of the old music industry by giving record labels a platform to build out of decline," says Mr Mulligan.
"To go to the next phase [Spotify] will have to stop talking out of both sides of its mouth, which it does at the moment. And stop being so friendly to the record companies."
More than half of Spotify's revenue goes directly to the record companies. But they are not likely to make any bold moves immediately, since the labels also control two thirds of the music that Spotify plays.
Chris Hayes at Enders Analysis says while it may not be as a direct result of the share listing, he also expects Spotify to evolve.
"I think over time they're going to have to diversify their offering," he says, helping to set them apart from a sea of rival streaming services.
What will Spotify look like in the future?
They have already moved into podcasts and producing original music. They may well start to offer more original content, such as Taylor Swift's recent video that was only made available on the platform, says Chris Hayes.
It could also be thinking about emulating Berlin-based Soundcloud, which offers a social media forum for lower-profile content creators, he adds.
Mark Mulligan thinks it could offer documentaries, information about artists, special music features, news articles and even comedy.
Will things be different for artists?
One of the thorniest issues for Spotify in the past has been a backlash from artists, who say only the biggest stars make enough income from the streaming subscription model.
"At the moment it's all about record labels. Spotify doesn't have a place for artists," Mulligan says. "The bigger bolder things post [the share listing] will be doing something very clear for artists."
He thinks in time Spotify could start offering places for artists to build their own creative spaces and profile pages - so that there are ways to bypass the record labels and go straight to Spotify to reach fans.
Chris Hayes thinks it will be some time before record labels are sidelined. But he says if Spotify can attract more subscription customers, payments to artists will increase automatically through the current pay-per-listen model.
So can Spotify make money?
The firm's first operating profit (not including debt financing) is on the horizon for 2019 based on current trends, according to Mr Hayes.
"The strategy has always been, the free tier is not very lucrative but it is a funnel through which to persuade free users to upgrade to the subscription tier, which is lucrative."
As long as subscriptions continue to grow it should eventually become profitable.
Mr Mulligan thinks as the business matures it will learn to make money from its loyal customers by offering more services.
Above all there is scope to exploit the data gleaned from fans' playlists, and the company could sell its data tools back to the music industry. For example Spotify's insights into people's listening habits could inform an artist planning a route for their next tour.
What about the competition?
Spotify may be the current market leader, but in the long-term there are threats on the horizon in the shape of the Apple, Amazon, Google and possibly even Facebook.
"Ultimately Spotify's biggest risk is: what is it like to be the only company in a marketplace that has to turn a profit?" says Mr Mulligan.
The tech giants wield vast resources and have ready-built ecosystems from smart speakers to social networks.
"Spotify's rivals are the biggest companies in the world with bottomless pockets," he says, and they are using music as a way to sell their core products, not as a business proposition in itself. They could offer the record labels more money than Spotify can afford to pay.
"That would be my biggest worry if I were Daniel Ek," he says, referring to Spotify's co-founder.
"What if Apple decided: let's throw ten billion at this and see if we can throw Spotify out of the water?"