Calor gas shortages leave customers without heating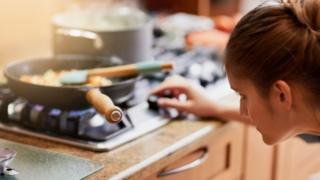 Customers have vented their anger after a shortage of Calor gas left some without hot water and unable to heat their homes over the Easter weekend.
About 3,300 Calor customers who use liquefied petroleum gas (LPG) have been affected by the delays which began when Storm Emma hit in late February.
Some said they had run out of gas despite ordering weeks in advance, while others said they are running low.
Calor said it was "extremely sorry" but the delays could take weeks to resolve.
The energy supplier has 110,000 LPG customers in Britain, and said the situation affected less than 3% of these customers.
However, since it first announced news of the delays on 6 March, it has attracted hundreds of angry comments on Facebook and Twitter, as well as on the review site Trustpilot.
Some said they were concerned for family members - elderly pensioners and young children who were suffering due to not having heating, hot water, or in some cases, even the ability to cook.
Others said they had been told it would take a week before Calor would be able to deliver gas canisters to them - despite the fact they had called to order new ones before they ran out of gas.
Calor blamed the closure of the Forties pipeline in the North Sea due to a leak in early December, as well as the week-long closures of the Fawley, Stanlow and Valero oil refineries. This, it said, had led to LPG stocks running low across the industry.
When the weather subsequently turned icy with Storm Emma - nicknamed "The Beast from the East" - it was unable to meet the increased demand for LPG.
'Seeing an improvement'
It said it had now managed to deliver gas to people who reported running out three weeks ago. But it said it was still working through the backlog to get to others who had run out or were running low.
A spokesman told the BBC: "We are seeing an improvement in the situation, but it will be some weeks before we are fully back to normal.
"We have been keeping our customers updated and have had service centres open every day over Easter (apart from Easter Sunday), plus we have had drivers out making deliveries every day.
"We are extremely sorry about the situation which has arisen from the combination of two extreme events."
Around 200,000 people use LPG in the UK and Calor is the leading supplier. However, it is not the only gas firm to have experienced problems, with others including Flogas, Avantigas and Countrywide also reporting delays.