US-China trade: How badly could new US tariffs hurt China?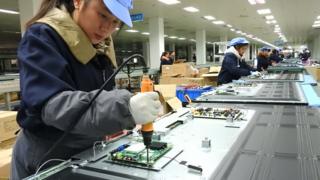 What do bakery ovens, high definition colour television sets, juice presses, rocket launchers and uranium have in common?
Well, they're all on a list of about 1,300 Chinese products the US is considering slapping a 25% tariff on.
The juice press might not cause too much of a squeeze for Beijing.
But many of the goods on that list are in industries like aerospace and engineering - areas of innovation that China wants to become a world leader over the next decade.
And the planned 25% tariffs do have the potential to hurt China.
The US bought close to $75bn (£53.2bn) of China's machinery and computers in 2017.
And that's expected to be almost $80bn in 2018 and 2019. These goods make up by far the biggest chunk of Chinese imports to the US. And they're on the list.
"The new US tariffs have really taken it up a notch," says Tony Nash of research house Complete Intelligence.
"The key issue is that it targets many of the value added goods being traded by China."
What's the US afraid of?
A quick history lesson. Let's go back to the late 1980s, when China was still opening up to the world under the leadership of Deng Xiaoping.
What happened next is the stuff dreams are made of, as the Petersen Institute of International Economics points out:
An average of 10% GDP growth every year leading it to become the world's second largest economy
800 million people lifted out of poverty
Mortality rate of children under five halved between 2006 and 2015
A lot of this growth came from the manufacturing boom of the 70s and 80s.
But the US says that China forced American companies who wanted access to low-cost labour in the country to tie up with Chinese companies - effectively allowing them to copy and steal American ideas.
"China is very aggressive about what it wants," Martin Medeiros of Medeiros Law told me from the US.
"It has come a long way since the 1980s but the Chinese don't think about intellectual property the way Americans do."
At the heart of this battle is that the US feels unfairly played, and that it is American technology which has given China an unfair advantage in the global innovation game.
But the reality is that China is racing ahead, and it doesn't need the US's permission.
In its 13th Five Year Plan published in 2016, China announced its vision to become an "innovation nation" by 2020, an "international innovation leader" by 2030, and "a world powerhouse of scientific and technological innovation by 2050".
China is spending more money on research and development, and filing thousands of patents. Its companies are some of the world's leaders in innovation, artificial intelligence and are engaged in cutting edge research.
The US is worried that Chinese companies will take over America's influence in these areas.
So does China need to worry?
China has to care about what the US does in terms of tariffs, believes Deborah Elms from the Asian Trade Centre.
These are going to hit real people and some companies will likely go bankrupt if tariffs of 25% are actually applied and if counter-retaliation happens, she says
In China there is no social safety net to catch folks who lose jobs.
And in a country where the political system is predicated on the assumption that the government will look after its people, job losses aren't good for the Communist Party.
Will US tariffs push China to change?
In the short term - no, says Mr Medeiros.
The tariffs will "potentially hurt China simply by lack of market access," but won't do much to change China's IP laws which he acknowledges have improved considerably over the years.
In the long term though, perhaps it will push Beijing to give up some ground - including the requirements for foreign firms to do joint ventures and technology transfers.
Don't hold your breath though.
With current rhetoric ratcheting up, and a tit-for-tat attitude on both sides, this is more than just a trade war.
It's about two superpowers fighting for dominance in an increasingly polarised world. And no one wants to lose face.