Tesla shares higher after Model 3 production boost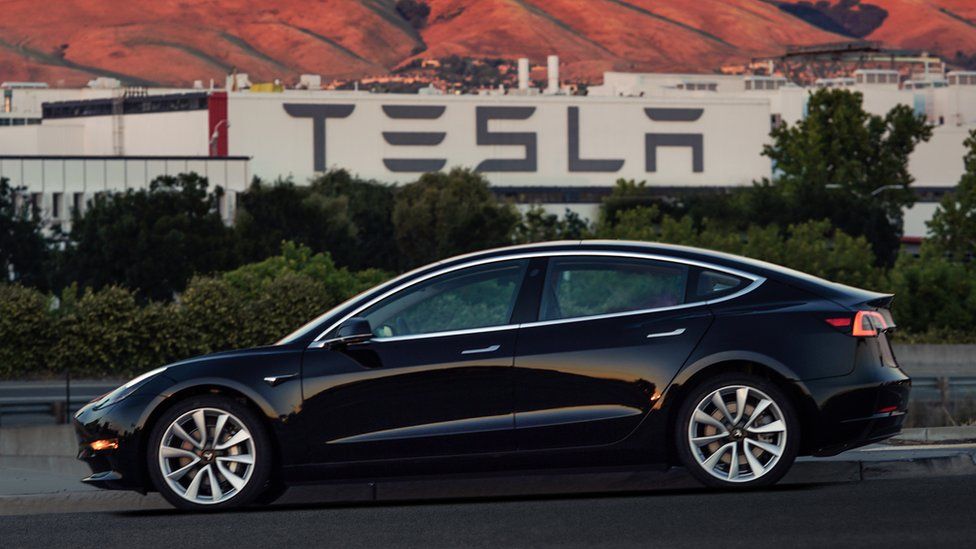 Shares in electric car firm Tesla have risen after it announced a boost in production of its cheaper Model 3 cars in the first quarter.
The firm said it had "by far the most productive quarter in Tesla history" after it built 34,494 vehicles, 9,766 of which were Model 3s.
Tesla's profitability is reliant on increasing its Model 3 production.
The company's shares have fallen in the past week amid speculation over its finances and a fatal US car crash.
The firm said in a statement it had doubled its weekly Model 3 production rate in the third quarter. In the last week, it said, it had produced 2,020 of the vehicles.
"Tesla continues to target a production rate of approximately 5,000 units per week in about three months, laying the groundwork for Q3 [the third quarter] to have the long-sought ideal combination of high volume, good gross margin and strong positive operating cash flow.
"As a result, Tesla does not require an equity or debt raise this year, apart from standard credit lines," it said.
The production numbers, short of Tesla's own target of 2,500 per week for the end of March, are far higher than the quantity of 793 Model 3s built in the final week of last year.
Increasing Model 3 production is important for the Silicon Valley electric carmaker, whose profitability is tied to the cheaper car.
Tesla says it has about 500,000 advance reservations from customers for the vehicle.
It said order cancellations were almost always down to delays in production and product options.
Shares of the California-based company, which have fallen about a fifth in value in the past week, were nearly 3% higher in midday US trading.
Tesla chief executive Elon Musk Musk made light of the company's financial situation on 1 April, joking in a tweet that Tesla had gone bankrupt.
"Despite intense efforts to raise money, including a last-ditch mass sale of Easter Eggs, we are sad to report that Tesla has gone completely and totally bankrupt. So bankrupt, you can't believe it," the tweet said.