Spotify shares dip on first day of trading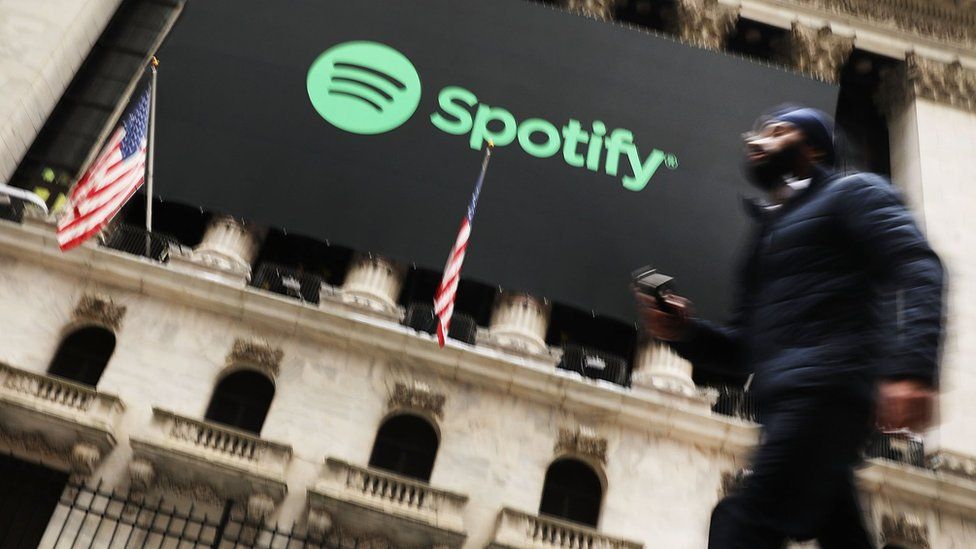 Shares in Spotify fell back on the first day of trading on the US stock market after the music streaming firm's highly anticipated launch.
The shares opened at $165.90 (£118) - more than a quarter higher than the $132 guide price set by the New York Stock Exchange on Monday.
After going as high as $169, they lost ground to close at $149.01.
That makes the Swedish company worth about $26bn - well above the value of other tech firms such as Twitter.
Spotify used an unconventional process to go public: instead of issuing new shares, early investors sold their existing holdings.
That move gave the firm's early backers a chance to cash in on its growth.
Traders huddled on the floor of the New York Stock Exchange on Tuesday morning, gauging interest from buyers and sellers to determine the opening price.
By the end of the day, about 30 million shares had traded hands.
Despite their retreat the shares remain well above the prices Spotify said they fetched in recent private transactions.
Spotify's first-day valuation ranks among the 10 largest for a technology company's debut, behind firms including Facebook and Alibaba.
Spotify, which started offering its music service in 2008 as an upstart music platform, is now available in 65 countries.
It has added millions of users to its free-to-use ad-funded service in recent years, converting many of them to its more lucrative subscription service.
It is now the global leader with about 71 million paying customers, almost twice as many as Apple Music, but is still yet to make a profit.
Spotify posted a loss of €1.23bn last year despite making revenues of €4bn.
Analysis: Kim Gittleson, New York Business Correspondent
Like an angsty teenager, Spotify has begrudgingly made its stock market debut.
The ten year old streaming music company eschewed the normal pomp that comes with a New York Stock Exchange listing, choosing not to ring the opening bell or even send Daniel Ek, Spotify's co-founder.
Although a few traders sported vests with the Spotify logo and the traditional gigantic banner hung outside the NYSE building, most of the morning's activity was focused on a very unusual task: trying to figure out the opening share price. The process had started at 6:30 in the morning and continued for hours after the opening bell.
The drawn-out process was a result of Spotify's decision to go public using an unusual strategy known as a direct listing that cut out the bankers and meant early investors and employees could immediately sell their shares.
When the music finally stopped, shares in Spotify started trading at $165.90, valuing the company at $29.5bn.
That should net the company's early founders many millions of dollars. Presumably, to quote fellow Swede Robyn, they're somewhere else, still dancing on their own.