Nine ways to narrow the gender pay gap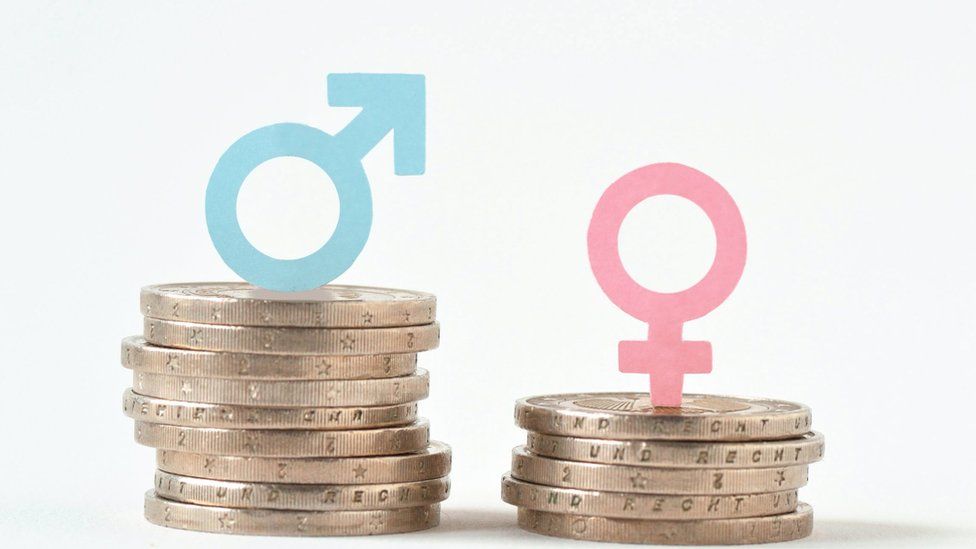 Thanks to the gender pay gap reporting requirements, we now know that 78% of UK firms pay their male staff more than their female workers.
So what can firms do - realistically - to change?
Many women do not have access to proper childcare, especially for anti-social hours.
Higher-paid management positions often require extended or flexible hours, leaving many women accepting lower-paid jobs as the price for regular working patterns.
"The provision of childcare enables you to get out to work, which enables you to get promoted into a better-paid job," says Sheila Wild, founder of the Equal Pay Portal.
"Ultimately, that affects the gender pay gap."
Many recruitment adverts fail to mention that the job is female-friendly. For example, fewer than 10% of adverts make any reference to flexible working.
Peter Cheese, the chief executive of the Chartered Institute for Personnel and Development (CIPD), believes adverts could be much better worded.
"There's a lot of evidence to show that - unintentionally - many of the words used to describe jobs can be excluding of women, or make them think that the job is much more male-orientated, which reinforces male stereotypes."
Publication of the gender pay gap may be the start of a move towards greater salary transparency. Many women are likely to be unaware that male colleagues earn more than they do.
Since August 2016, workers in the US state of Massachusetts have had some rights in this matter. Moreover, they no longer have to disclose what they got paid at their last job.
There is some evidence that employers offer women a salary based on previous earnings.
One of the reasons women's pay progression lags behind men's is maternity leave and time taken off for childcare, says CIPD performance and reward adviser Charles Cotton.
There's not a great deal of take-up of shared parental leave by men, because very few firms make it economically viable, he says. In addition, men may be concerned that taking leave may affect how they are perceived by their firm and have an impact on their career.
The CIPD would like firms to be more generous with paternity pay, and perhaps even to bring in a "use it or lose it" policy whereby men must take two or three months' paid leave, or lose that opportunity, Mr Cotton says.
"People taking time out of the labour market to look after elderly relations" also disproportionately affects women's career progression, he says, adding that perhaps the government should look at payments for carers, which could be better value for money than their having to rely on the NHS or local authority care.
Some companies have announced recruitment targets. Lloyds Banking Group has promised to have 40% of its senior roles filled by women by 2020.
However, Fiona Hathorn - managing director of Women on Boards UK - believes some such targets are unrealistic. For example, a company trying to recruit female engineers might find too few graduates in the market place.
"Setting targets for women in leadership positions is sensible, but we need to have sensible targets. And some of those targets can alienate men," she says.
Instead Ms Hathorn advocates what she calls "proxymetrics" - alternative ways of measuring progress.
Even though women might remain in a minority in senior positions, progress has been made if more are coming in for job interviews, or indeed if more men are taking paternity leave, allowing their partners to work.
This would help - but low pay as such is not necessarily the problem. Paying women less than men for an equivalent job is already illegal, after all.
The issue may well be more about promotion and retention, as well as aspiration.
Many experts advocate better training, to get rid of unconscious bias among managers. Senior staff may need to work harder to encourage women to seek promotion.
"We know that many men will put themselves forward for roles when they're not ready. Conversely, many women will not put themselves forward, because they don't think they're ready - when they are," says Peter Cheese of the CIPD.
"We've got to train line managers better, so they can understand where they may have biases about how they think of - or treat - women."
Senior managers should be responsible for changing the culture of the workplace, according to the CIPD.
"I profoundly believe this is the time for leaders to step up," says Mr Cheese.
"What is the tone from the top? What are leaders saying about the gender pay gap?
Are they trying to hide from an uncomfortable truth about what's really happening in their organisation? Or are they being open and honest about it?"
Encouraging girls to play more sport at a young age could build their self-esteem.
Ms Hathorn of Women on Boards UK believes boys and girls should be playing football together until the age of 12.
"Women who have played sport at an international level are seen as leaders by men in the office," she says.
It could also change their own expectations about what they can do.
"We know that young girls at the age of four believe they can do anything, but by the age of six they have a different view," she adds.
Up to the age of 12, girls are as strong as boys physically, so they should be playing the same sports."