Not a trade 'war' but a trade 'dance'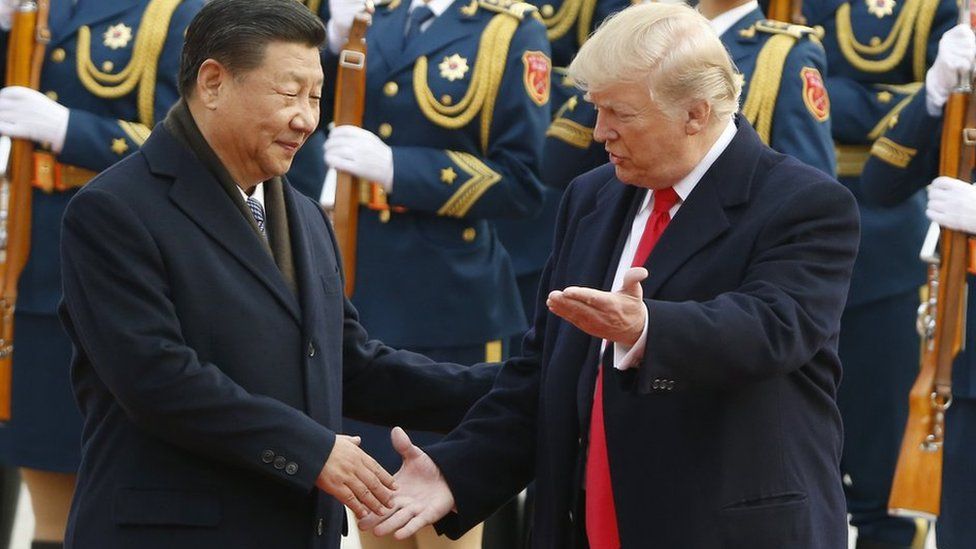 President Trump has tweeted the US is "not in a trade war with China".
The Chinese say they don't want a trade war either.
But both sides don't appear to be backing down from their list of demands.
So if it's not a trade war - is this a trade dance?
What I mean by that of course, is that these are negotiating tactics.
It's what happens in any business negotiation - each side is trying to get the other to do what it wants. And while the public declarations of potential tariffs may be quite dramatic, behind the scenes US and Chinese officials are still talking, and laying out all the options.
At the heart of this conflict is one key point : the US says China has used unfair tactics - dumping its cheap products in the US, stealing technology from US firms by forcing them into joint ventures, and limiting their market access - to pull ahead in the global economic race.
It's how, the US alleges, China has been able to see an unprecedented rate of economic growth, improvement in quality of life, and win a bigger share of the global economy in the last few decades.
China says: that's not true.
Both sides have used the threat of tariffs on key products in equal size and scale.
"I think the parties will make concessions," international negotiator Martin Medeiros of Medeiros Law told the BBC's Asia Business Report programme.
"I think this is a precursor to some negotiations that will get China on a path...to have a robust set of intellectual property laws… that's the endgame."
No one wins in a trade war
All well and good, but it doesn't look like we're getting to that point anytime soon.
And both sides stand to lose if this turns into a full blown trade war.
China's $50bn of retaliation covers more than 40% of US goods exports to China, and accounts for 0.3% of US GDP.
Politically sensitive areas like the agricultural sector, car manufacturers and aircraft makers have been targeted.
US tariffs on Chinese goods include electronics which China is a major exporter of. It's hard to see where else American suppliers could get these products.
While US tariffs on China won't hurt overall GDP much, but...
Restrictions on soybeans could come at a cost to China. The US is the second largest exporter of soybeans to China. Stopping imports of them is not an option, so prices would rise at home - not good news for a government trying to keep food inflation low.
Both sides have shown they are willing to act boldly if necessary. And they both have strong hands to play.
China holds the "nuclear threat" of selling US treasuries (government bonds) if it doesn't feel the US is playing ball. That would hurt the US economy, as I've written about before.
And the US could call China out as a currency-manipulator in the US Treasury's semi-annual currency report which is due later this month. Donald Trump promised to do that on the campaign trail - but still hasn't.
If the US does that, under a 2015 law it has a year to resolve the issue with China through - you guessed it - more negotiations.
The reality is that a decision like that wouldn't have any immediate tangible effect - but it would be another way for the Trump administration to cast China as the villain in this story, and if talks don't go as the US would like - this may be one tool in it's arsenal.
So this could go two ways. There's room for more negotiation, but that mean both sides need to give something up.
Question is, will they dance and make a deal?