Chains Bargain Booze and Wine Rack near sale to Bestway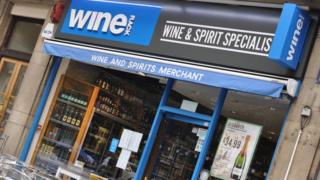 Conviviality brands Bargain Booze and Wine Rack are set to be sold to food wholesaler Bestway for £7m.
Conviviality's retail arm, which also includes the WS Retail and Select Convenience chains, was looking for suitors after the company ran into financial trouble.
The sale is expected to save 2,000 jobs at the chains.
Bestway is one of the UK's biggest food wholesalers and also owns the Well pharmacy chain.
Earlier this week, the wholesale division of Conviviality was bought by C&C, the owner of Magners cider.
Both deals were completed through a pre-pack administration process, which was overseen by PwC.
The pre-pack process allows for the sale of assets before the official appointment of administrators. The process effectively allows the buyer to cherry-pick the profitable parts of a failing business instead of taking on all liabilities.
Last week, Conviviality had announced plans to file for administration.
The company had shocked investors last month with a profit warning and news of an unpaid £30m tax bill.
Those revelations prompted the resignation of chief executive Diana Hunter, who had been in charge since 2013, the year Conviviality listed on the London Stock Exchange.
Conviviality attempted to raise £125m to rescue the business, but failed to do so.