Deutsche Bank sacks British boss John Cryan after years of losses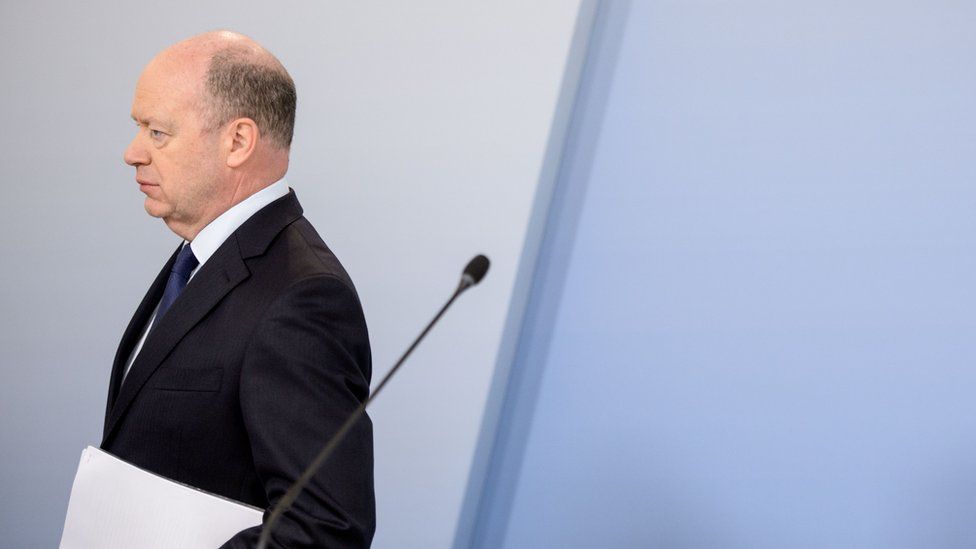 Deutsche Bank has dismissed its chief executive John Cryan amid continued losses at Germany's biggest lender.
After taking over in 2015, British-born Mr Cryan, 57, has battled the fallout from a series of scandals as well as three years of reported losses.
Co-deputy chief executive Christian Sewing, 47, will take over as chief executive immediately.
The shake-up was announced after an emergency meeting that ended late on Sunday night.
Mr Cryan's contract was due to run until 2020.
Deutsche chairman Paul Achleitner said Mr Cryan had "laid the groundwork for a successful future of the bank" despite his "relatively short tenure" as chief executive.
Mr Sewing, who has been with the bank for his entire career, had been responsible for its private and commercial bank operations.
Some analysts say his appointment suggests a strategic shift towards retail banking in its home market.
Deutsche Bank has grappled with falling revenues and its share price has sunk by close to a third this year. Shares rose more than 3% in Frankfurt on Monday.
That followed losses of €6.8bn in 2015 and €1.4bn in 2016.
Mr Cryan was appointed as co-chief executive in July 2015 to overhaul the bank following a number of regulatory problems stretching back to before the financial crisis.
The Sunderland-born banker was also tasked with controlling the lender's spiralling costs and quickly cut thousands of jobs.
But after becoming sole chief executive in 2016, Deutsche continued to struggle, largely because of a slump in its investment banking division which accounts for more than half of sales.
At that time, it was considered to be the most dangerous bank in the world after the International Monetary Fund (IMF) found that a potential collapse of Deutsche posed the biggest risk to the stability of the global financial system.
Also in June 2016, Deutsche's US division failed a stress test conducted by the US Federal Reserve.
Deutsche and Santander's US unit were the only two of 33 banks to fail the test, which assessed how they would perform in a financial crisis.
Markus Riesselmann, an analyst at Independent Research, said Mr Cryan "had to battle serious problems that his predecessors swept under the rug for years".
"He's largely cleared those up and now it looks like Deutsche can't turn things around regarding margins, but I doubt a new chief executive could successfully make that transition. It seems rather to be a fundamental 'Deutsche Bank problem'," he added.
Mr Achleitner said Mr Sewing had proved to be a "strong and disciplined leader" in his more than 25 years at Deutsche.
"The supervisory board is convinced that he and his team will be able to successfully lead Deutsche Bank into a new era. We trust in the great ability of this bank and its many talents."
Deutsche Bank also said the co-head of its corporate and investment banking, Marcus Schenck, will leave.