Uber to buy electric bicycle-sharing firm Jump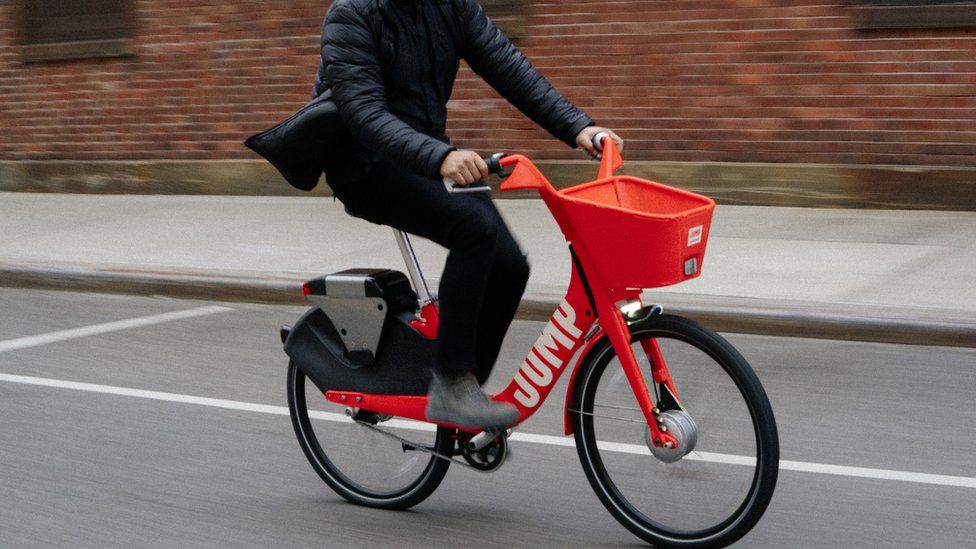 Uber users around the world may soon be able to hire electric bicycles through the app, after the ride-sharing firm bought US bike-hire firm Jump.
Based in New York, Jump allows riders to rent electric-powered "pedal assist" bikes via an online platform.
Its bikes are also dockless and do not need to be returned to a specific place.
Uber chief Dara Khosrowshahi said: "We're committed to bringing together multiple modes of transportation within the Uber app - so that you can choose the fastest or most affordable way to get where you're going, whether that's in an Uber, on a bike, on the subway, or more."
The bike-sharing market is growing at about 20% a year and is set to be worth between €3.6bn (£3.1bn) and €5.3bn by 2020.
David Bailey, a professor at Aston Business School, told the BBC: "Uber is looking at this partly because it is fast growth area but it is also looking forward to a time when we won't own cars.
"Autonomous cars are coming and in big cities you won't need to own a car in future. You might want to use an Uber taxi but then finish the journey on a bike. So it's about offering multi-modal transport."
Founded in 2008, Jump Bikes has launched conventional bike-sharing schemes in 40 cities across six countries, including in Brighton in the UK.
Its e-bikes, which were unveiled last year in Washington DC, cost $2 (£1.40) for the first half-hour, then 7 cents per minute.
The bikes are "pedal assist", meaning their batteries only kick in when you are pedalling.
Users also locate and unlock the cycles with their smartphones and use a built-in lock to secure the bike to a rack at the end of their ride.
Analysis: Victoria Fritz, BBC transport correspondent
Bike-sharing company Jump and ride-hailing service Uber have more in common than you might think. Both join the dots in journeys between traditional lines of public transport.
Deploying a fleet of vehicles is one way to get a passenger from door-to-door. Owning a fleet of electric bicycles offers another. Both companies concentrate their efforts in cities, where governments are keenest to rid the roads of cars.
There are over a thousand different bike-sharing companies currently in operation across the world. The vast majority have yet to turn a profit. Most will fail.
The likes of Uber, however, are prepared to play the long-game. Scale and brand recognition are critical. They have both. Transport in cities is a winner-takes-all kind of business.
The Jump deal comes as Uber faces growing competition from competing ride-sharing operators in international markets.
Last week, Uber sold its South East Asian operations to regional rival Grab, retaining a 27.5% stake in the Singapore-based firm.
It follows a similar deal in 2016 with China's Didi Chuxing, which on Friday also said it would open in Mexico - the firm's first launch outside Asia.
Didi said it would start off with a car service, but according to Reuters, it is also considering allowing users to hire motorcycles and bikes.