Companies targeted over gender balance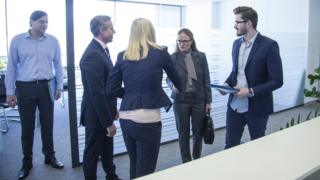 One of Britain's biggest share owners has stepped up the pressure on UK boardrooms when it comes to pay, diversity and sustainability.
Legal and General Investment Management - which manages nearly £1 trillion worth of assets - voted against 215 UK pay deals in 2017, a 40% increase over the previous year.
It has promised to vote against the reappointment of chairs of the UK's 350 biggest public companies if women don't make up at least 25% of the board.
Legal and General's report comes ahead of the annual general meeting season when company shareholders have a chance to voice concern over the way companies are run.
Corporate governance is not a sexy subject but it has attracted increased public and political attention since the recent collapse of the UK's second biggest construction company.
The sudden liquidation of Carillion left thousands of workers in limbo and many subcontractors out of pocket while executives moved to protect their own payouts.
Sacha Sadan, director of corporate governance at Legal and General Investment Management, said: "Due to the media spotlight on failures in corporate stewardship, it can seem as though many companies are not doing a good job addressing ESG (Environmental, Social and Governmental) matters.
"In fact the vast majority of companies are making significant progress - we simply believe there is more to be done"
Legal and General has been more vocal than most on some of these issues but cynics will argue that financial returns to shareholders still always seem to trump the interests of other stakeholders - like suppliers, workers, communities and the environment.
Politically acceptable
On pay, the most effective anchor on executive compensation may yet be the forced publication from June of this year of CEO pay compared to the average worker.
This ratio may produce some odd results - for example, Goldman Sachs will have a lower ratio than Tesco thanks to the fact that the average Goldman worker is paid a heck of a lot of money.
However, once published, companies will be loathe to be seen to let it go in the wrong direction. That leaves two choices - reduce CEO pay or raise that of average workers. Both - or either - politically acceptable outcomes.
The way British company law works makes shareholders the effective masters of the Universe - witness the recent shareholder vote at 260-year-old engineering firm GKN in favour of being acquired by Melrose, a company that typically only likes to own a company for five years before selling it on at a profit.
There were howls of dismay at what unions and many politicians saw as typical and damaging short termism.
Supporters of that deal say that it is right and proper that the people who decide the future of a company and the way it's run are the people who own it.
Legal and General is one of the biggest owners out there and so its opinion and its promises matter.
This may be an enlightened approach to corporate stewardship or it may be commercially expedient virtue signalling (put your money with the good guys).
For those that hope to see changes to the way corporate Britain is run - perhaps it doesn't matter.