More choose budget funerals, says Dignity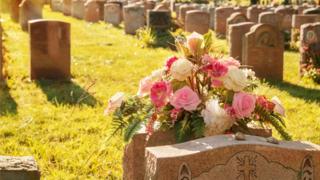 More customers are opting for budget funerals, with a standard-issue coffin and no-frills, according to funeral services firm Dignity.
But the company said "simple" funerals represented only 15% of its services, less than it had expected after it slashed prices earlier this year.
Dignity said the trading outlook for the year was now better than expected.
Higher numbers of deaths in the first three months of the year also boosted sales, the firm said.
Dignity's shares rose more than 17% on the news.
In January the firm announced it was slashing the price of its "simple funeral" option from £2,700 to £1,995 in England and Wales (£1,695 in Scotland) in the face of increased competition.
With the budget option customers have no control over the time of the funeral, are provided with a standard issue "dark oak effect" coffin, and are expected to arrange extras such as flowers independently.
The firm had predicted the no-frills service would rise from 7% to 20% of its business.
However only 15% of bookings were for the budget service, prompting an improved outlook for the year as a whole, Dignity said in a trading statement.
The bulk of its funerals are still for its traditional service which allows customers to choose the time of the service and select a coffin.
Dignity said its first quarter revenue was approximately £95m compared to £93m in the prior year.
However Dignity said it expected trading to remain "volatile" for the rest of the year as the market adjusts to the price changes.
Overall the number of people who died in the UK rose to 181,000 in the January to March period, 8% higher than at the start of last year, Dignity said.