Is Paytm's founder India's happiest boss?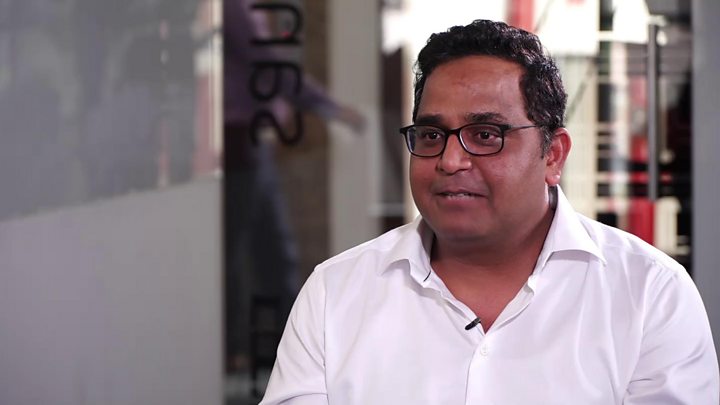 India's youngest billionaire broke all the rules in 2010 when he started the digital payment company, Paytm.
Fast forward to today, and Vijay Shekhar Sharma, 39, is the owner and chief executive of India's second-most valuable internet firm.
Paytm, which is backed by Alibaba, is now worth some $10bn.
So what's the secret to this incredible success?
Mr Sharma says that for him it's about always being happy.
And I've certainly never interviewed a more cheery chief executive. As you'll see from the video above, Mr Sharma is not your average chief executive type. He's constantly cracking jokes and laughing out loud.
Make no mistake, though, when it comes to Paytm, he is focused, and serious.
"We will bring half a billion Indians to the mainstream economy," he tells me as we walk around his firm's headquarters in Noida, just outside of Delhi.
But what does that mean?
Well, by 2022, Mr Sharma wants to see a very big chunk of India's population using his digital payment platform to pay for things like food, electricity, travel, school fees, taxes, and insurance - just to name a few.
That's no easy goal in a country where many people do not own a smartphone, let alone have access to the internet.
Also, a lot of Indians simply prefer to pay for things with cash.
But Paytm, and Mr Sharma's fortunes, got an unexpected boost in 2016, when the Indian government removed high-value bank notes from circulation.
The move, called demonetisation, was implemented partly to clamp down on corruption.
But many of India's middle to low-income families did not have bank accounts and were used to paying for most things with cash.
So, in one fell swoop, this demographic was forced to find new ways to pay for things - and Paytm became one of the answers.
At the same time, millions more merchants signed up to become Paytm clients, and with that the firm's success went through the roof.
What's even more impressive about Mr Sharma's story is that it's a bit of a rags to riches one.
The young billionaire doesn't come from India's affluent or well-connected elite. Instead, he describes himself as a man of the people.
Up until the age of about 15, he had no English language skills, so he started to teach himself.
"That sort of gave me an underdog-ish feeling," he says.
"And I think that over the period, I have championed underdog-ism. And I feel that I want to be the best underdog story out of India."
He may call himself an underdog, but Paytm certainly is not one.
With more than 300 million users, it is the most popular digital payments player in India.
Bring on the competition
With that kind of success though, of course comes competition.
And Western players such as Google, Amazon and Facebook - each of which are road testing systems to help Indians pay for things digitally - are lining up to take on Paytm.
Mr Sharma is quick to brush off these foreign players.
"Bring it," he says excitedly when I ask him about Facebook's WhatsApp and the payment service it is piloting in India.
He's up for the challenge, but Mr Sharma also wants to defend his country's interests.
"I'm fighting a battle of not letting this market become another colony of American market players. These people look at us as a third-world market. They just want to take the dollars away from [us]."
Nothing looks set to hold this businessman back, though. "I've nothing to lose. There's never a day where I can lose something because there is nothing that I was born with, there is nothing that I inherited.
"So everything is going to be an outcome, which is always positive."
Words to live by.
You can watch more of Vijay Shekhar Sharma's interview with Karishma Vaswani on Asia's Tech Titans on BBC World News on Saturday 21 April and Sunday 22 April - more details here.