Diesel emissions scandal: Ex-VW boss Winterkorn charged in US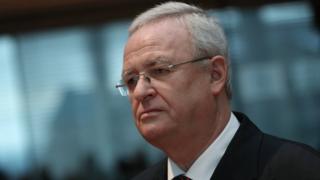 Former Volkswagen chief executive Martin Winterkorn has been charged by US prosecutors in Detroit over the diesel emissions scandal.
He has been accused of conspiring to mislead regulators about the German car maker's efforts to cheat the emissions tests of its diesel-fuelled vehicles.
Charges filed in March were revealed on Thursday, adding Mr Winterkorn to the list of accused former VW executives.
VW said it was cooperating with US probes and declined to comment further.
US Attorney General Jeff Sessions said the indictment showed that Volkswagen's scheme to cheat its legal requirements went "all the way to the top".
Mr Winterkorn, 70, resigned soon after the scandal over polluting vehicles in the US erupted in September 2015.
He is the ninth person to be hit with US criminal charges connected to the emissions cheating scandal. Two have pleaded guilty and are serving time in prison.
Analysis: Joe Miller, BBC business correspondent, New York
Despite a bill of more than $30bn in fines and buying back cars, as well as the indictment of several mid-level executives, it always seemed like the man at the top of Volkswagen would escape prosecution.
Martin Winterkorn, who was in charge of the world's largest car maker during the period it installed cheat devices on millions of vehicles, has always maintained that he reported the illegal activity to authorities soon after becoming aware of it.
But in an unprecedented filing against an overseas business leader, a federal grand jury in Michigan charged Mr Winterkorn with making "false representations to regulators and the public" about the emission levels of VW vehicles.
He is already in legal trouble in Stuttgart, where VW investors claim he sat on information of the scandal, which wiped billions off the company's market value, for more than a year.
But even if found guilty by US authorities, it's unlikely Mr Winterkorn, who resigned soon after the scandal broke in 2015, will ever see the inside of a US courtroom, much less prison, as Germany does not extradite its citizens.
Volkswagen pleaded guilty in March 2017 to criminal charges that it deceived US regulatory agencies, including the Environmental Protection Agency and the California Air Resources Board, by installing so-called software defeat devices in diesel vehicles emissions control systems.
The devices, which allowed vehicles to perform better in test conditions than they did on the road, were installed on almost 600,000 vehicles sold in the US from 2009 though 2015 and millions more globally.
They came to light after a study of emissions by researchers at West Virginia University.
The scandal has sparked investigations in Germany and other countries.
US prosecutors say Mr Winterkorn was informed of the issue as early as May 2014 and was present at a July 2015 meeting when executives agreed to deflect questions from regulators with excuses such as "irregularities".
VW in 2016 said that it did not know if participants at that meeting understood that the changes to the software violated US law.
The firm on Thursday said: "Volkswagen continues to cooperate with investigations by the Department of Justice into the conduct of individuals. It would not be appropriate to comment on individual cases."
Mr Winterkorn, who became chief executive in 2007, has said he was unaware of the issue until shortly before it became public.
German prosecutors have also said that Mr Winterkorn may have been aware of the problems earlier than he admitted.