Care homes firm Sunrise to refund 'up-front fees' to residents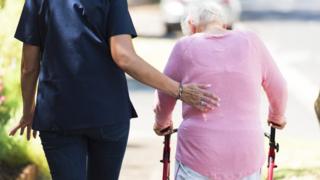 Care homes operator Sunrise Senior Living will pay more than £2m in compensation after charging thousands of pounds in compulsory "upfront fees".
The Competition and Markets Authority (CMA) secured the deal for those who had paid the fees since 1 October 2015.
People who have left or leave within two years of moving into one of the company's homes are eligible.
Sunrise chief executive Dr Natalie-Jane Macdonald said the firm made the move voluntarily.
"We previously charged an up-front community fee, which helped maintain the outstanding facilities and communal areas that our residents expect and enjoy," she told the BBC.
"However, we have agreed with the CMA that residents who stayed with us for shorter than average periods were not able to enjoy as much of the benefit of our facilities as residents who are with us for a longer time."
She added: "The Care Quality Commission has recognised us as one of the best care providers in the UK. We are deeply proud of the care we provide."
The average individual payout from Sunrise will be about £3,000 and if the resident dies in this timescale, their family will receive the money.
The move comes as part of the CMA's continuing investigation into how some care homes charge for their services.
Last November, the watchdog found that as well as charging the "upfront fees", some care homes were also billing families for weeks after their relatives had died.
It also highlighted how those paying for themselves were paying much higher charges than council-funded residents.
The average weekly charge for self-funders was £846 - 40% more than local authority rates.
In the Sunrise case, the CMA was concerned that the care home group's description of its "upfront fees" and how the money would be used was unclear.
Moreover, prospective residents were having to pay out before they had secured a place at the home.
The CMA also raised concerns that the fee was non-refundable once someone had lived in the home for more than 30 days.
George Lusty, the CMA's senior director for consumer protection, told BBC Radio 4's Today programme said it was a "really good outcome", adding: "We hope that this news will act as a spur to others to make sure they are doing the right thing by residents."
The CMA was looking into other similar cases, he said.
'Negotiations were almost impossible'
Sarah (not her real name) has told the BBC about her battle over fees requested by a Sunrise care home.
"I have just moved two relatives into a Sunrise home. It has been very stressful due to the way the contract is written.
"I was adamant I was not going to pay £5,000 per person before they moved in and Sunrise very quickly offered to remove this. Now I see why.
"Negotiations with Sunrise where almost impossible. They were almost entirely inflexible and although they have agreed to a 'fixed fee', the contract says they can change their minds whenever they want with 30 days' notice.
"Respite for two weeks for the two of them is costing just over £4,000 - a huge amount of money for people who have worked hard and been careful all their lives.
"Sunrise offer such superior care and environments to other homes, you feel a pressure to try and get them in there. It has been exhausting and emotional for me to organise, to say the very least.
"Once you are emotionally invested, Sunrise will not contractually commit to any of the verbal assurances and you feel vulnerable, once your relatives are in, that they will keep increasing your fee. It's a very stressful process,"
'Significant action'
Janet Morrison, chief executive of charity Independent Age, said such fees were unacceptable and welcomed the refunds.
"It is vital that care home providers are completely transparent on what any fees or charges cover, so older people and their families are clear on what they are paying for," she said.
Alex Hayman of consumer group Which? said it was a significant move by Sunrise: "Other care home providers should now scrap these excessive charges, and we urge the government to swiftly act on its commitment to strengthen protections for all residents and their families."
Caroline Abrahams, charity director at charity Age UK, said: "It is a travesty that these type of fees were imposed on residents in the first place. We hope this sets a precedent for other providers to ensure they are not charging unnecessarily and that all fees are fair."