Grenfell Tower: Safety clearance for fridge-freezer model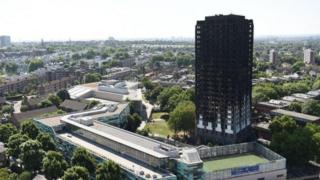 No product recall is required for the make of fridge-freezer blamed as the origin of the Grenfell Tower fire, an investigation has concluded.
The independent review assessed that the Hotpoint FF175B model posed a "low risk" and did not need modifications.
Consumers are being advised that they can carry on using the model as normal.
Whirlpool, which owns the Hotpoint brand, said consumers could be reassured. It sent its sympathies to the families of those who died.
It said owners of the model who had any concerns could still contact the company. Tens of thousands of fridge-freezers of this type were manufactured between 2006 and 2009.
Investigation
Business Secretary Greg Clark ordered an expert examination of the fridge-freezer after it was identified by the Metropolitan Police as being involved in a blaze which killed 71 people in June last year.
The product safety investigation looked at the remains of the fridge-freezer recovered from the fourth floor of Grenfell Tower, as well as other appliances of the same model.
Independent experts, commissioned by the Department for Business, said that "the product met legal safety requirements and that the risk associated with the model is assessed as low".
This finding was verified by the government's chief scientific adviser, John Loughhead, who described the investigation as "robust".
"Having considered the robust technical investigation, I support its conclusion that no product recall or other corrective action is required, and that people who own this particular model can continue to use it as normal," he said.
Police and Grenfell residents have been informed of the findings.
'Sympathies'
Jeff Noel, a spokesman for Whirlpool - which conducted its own investigation - said: "Nothing matters more to us than people's safety. We wish to reassure consumers that these models are safe and that people may continue to use them as normal.
"We are committed to assisting the Grenfell Tower Inquiry in any way we can as it sets out to examine all the potential causes of the fire and how it spread.
"We extend our deepest sympathies to all those affected by the fire - to the victims, those who have lost loved-ones, homes, and possessions, and to their friends and families."
But Peter Vicary-Smith, chief executive of consumer group Which?, said: "We believe that UK safety standards are inadequate when it comes to plastic-backed fridges and therefore meeting these standards is insufficient protection for consumers.
"Our tests show that plastic-backed fridges are a potential fire risk and should be withdrawn from sale. Whirlpool must urgently clarify if this model had this type of flammable backing."
Last month, it was revealed that the Grenfell Tower fire had prompted an investigation into incomplete records of gas pipes in high-rise buildings.
Cadent Gas, which operates and maintains local pipes in four regions of England, said some blocks were omitted from its 10-year survey. The company alerted energy regulator Ofgem, which is now investigating.
The helpline for owners of the Hotpoint model is 0800 316 3826 or via www.hotpointservice.co.uk/fridgefreezer