Japan's economy shrinks for first time in two years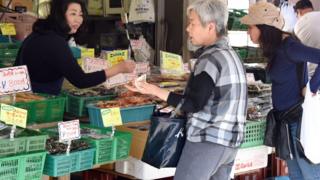 Japan's economy shrank in the first quarter of 2018 for the first time in two years, ending the longest stretch of economic growth since the 1980s.
The world's third biggest economy contracted at an annualised rate of 0.6%, official data showed.
Expectations were for an annualised contraction of 0.2%.
Private consumption and capital expenditure slowed during the January to March quarter, which analysts said dragged down the economy.
Annualised growth rates refer to the growth rate for one year, calculated using the rate for one quarter.
On a quarter-on-quarter basis, the economy shrank 0.2% compared with growth of 0.1% at the end of 2017.
Behind the numbers
Private consumption accounts for about 60% of Japan's economic activity, but the country also relies on its exports of electronics, among other products, to fuel its economy.
Some economists said that a global slowdown in demand for electronics, together with bad weather across the quarter, had contributed to the decline in the first quarter growth, and that they expected to see a recovery in the current quarter of 2018.
"Globally, IT-related items have been in an adjustment phase, which weighed down Japan's exports and factory output," said SMBC Nikko Securities economist Yoshimasa Maruyama.
"The economy is unlikely to continue to contract further. The global economy is performing well and a yen is trading beyond 110 yen against the dollar, so once exports start to grow again, the economy will return to a moderate growth path," he said.
Other economists said that the ongoing trade tit-for-tat between the US and China had affected business sentiment globally - leading Japanese corporations to pare back their capital expenditure - and that there may not be a recovery in immediate sight.
"The biggest worry that we have is the capital expenditure slow down [in Japan] as corporations are backing off not only because of the strong yen, but particularly because of the possible protectionism that is emerging from the United States to the rest of the world," the University of Shizuoka's economics professor Seijiro Takeshita told the BBC.
"There is a very big possibility that there will be a small contraction again," he said. "I wouldn't be surprised if that is the case."
But Mr Takeshita said the Bank of Japan was unlikely to make any further moves to help boost the economy.
"They are unlikely to make any further moves because the ball is in the court of Japanese corporations to continue with their investments, particularly in Japan."