North Korea-US talks: Kim is in this for economic guarantees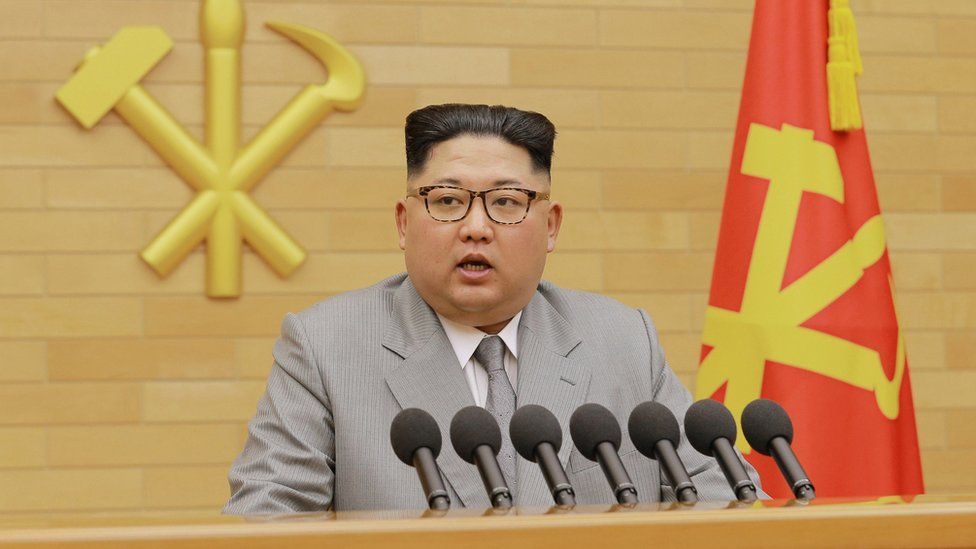 North Korea's belligerent threat to call off landmark talks with the US - currently slated for 12 June in Singapore - is a remarkable turnaround.
Just last month, the world watched on as North Korea's leader Kim Jong-un planted peace trees and held hands with South Korean President Moon Jae-in.
Mr Kim has also said, ahead of the upcoming Singapore meeting, that North Korea would halt nuclear and missile tests immediately. (The US wants Pyongyang to give up its weapons programme completely and irreversibly.)
Now though, that may not happen.
But frankly, given the unpredictable nature of the North and its leader, this latest development can hardly be labelled a surprise.
As I've written before, the Singapore meeting is very much a business one for Washington and Pyongyang - and so the North is now simply laying out the terms of the deal it wants, well ahead of any meeting taking place.
Focusing on the economy is something Pyongyang is under pressure to do. The implementation of UN and US sanctions have started to hurt North Korea's economy.
So too have moves by the US to force other countries, including China, to cut trade with the pariah state.
North Korean exports may have declined by 30% in 2017. In particular, exports to China, North Korea's biggest trading partner, are down as much as 35%.
That's wiped out a big chunk of the regime's revenue stream.
The regime's elite, who Kim Jong-un needs to keep on his side, won't like that. But what's more unnerving for Pyongyang is that things could get much worse.
Still, the North isn't going to give up something for nothing.
"North Korea and the US have substantively different understandings of what denuclearisation means," The Diplomat's Ankit Panda told me.
What the North really wants, is sanctions relief, he said.
"Currently there are around nine different sanctions resolutions that the North is under," Mr Panda added.
"This makes sanctions relief impossible. Even though South Korea may be positively disposed towards the North, nothing can happen without the UN and the US."
A test for the US - but will it work?
Which is why these latest comments from the North should be seen as diplomatic brinkmanship - or a test of the US' willingness to offer concessions, as William Newcomb, a former member of the UN Panel of Experts told me.
But whether this strategy will work is questionable and many analysts say the prospect of a down payment in the form of an easing of sanctions to ensure the Singapore talks go ahead, would be surprising.
"The UN Security Council would have to act to remove, modify or suspend international sanctions," says Mr Newcomb.
"In my opinion, it would take considerable progress towards denuclearisation to obtain international consent for sanctions relief sufficient to make any difference. US leadership would be indispensable."
Which may be why Pyongyang is playing this game.
It wants to make sure that the US knows how much is at stake and to ensure it has the leverage to get what it's really after - guarantees that its economy can survive.