Charlotte Hogg: former Bank deputy 'sorry' for mistake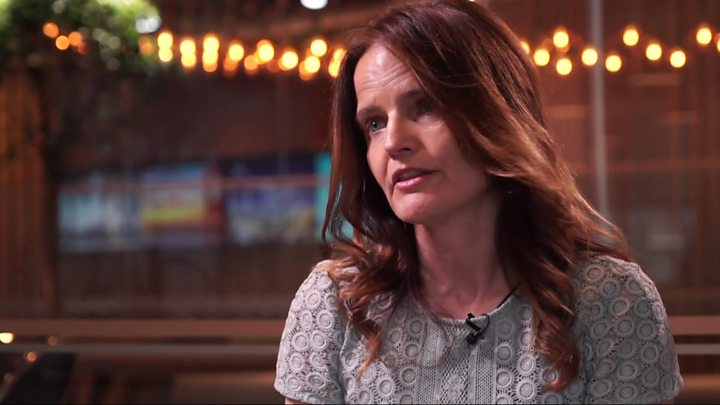 Charlotte Hogg has spoken of learning lessons after the "mistake" that ended her career at the Bank of England.
A former deputy governor - and tipped to take the top job - she says in her first interview that the experience made her a "different kind of leader".
She left the bank for not declaring her brother was a senior executive at Barclays, something that might be perceived as a conflict of interest.
It was a difficult time and "I wouldn't wish it on anybody", she told the BBC.
Since her resignation in March 2017, Ms Hogg has remained out of the public eye.
In the interview Ms Hogg reveals she has learned lessons from the "mistake", and argues it is important that people are allowed to move on after making errors - and still be successful.
'Bounce back'
"I wouldn't wish it on anybody, but there are many worse things that happen to us in life," Ms Hogg, who is now the chief executive of Visa Europe, told me.
"I think all the experiences one goes through in life, you learn something from.
"When something very difficult happens and you are enormously well supported by your colleagues who are wonderful and also by your friends, that enables you to bounce back.
"I think it also has made me a different kind of leader in the organisation I'm in today.
"I hope it makes me a more positive one actually, because when something bad happens and you bounce back you see the possibilities in life and that's a wonderful place to be.
"The other thing is whenever I see someone going through a rough time, I try to reach out.
"I hoped I did it before, but I'm pretty certain I'd do it every time now."
'Moved on'
Ms Hogg repeated her apology from her resignation letter which was published at the time she quit.
"I think I've said everything I needed to when I resigned but I apologise for the mistake I made and I apologised to my colleagues and you know, we all moved on," she said.
"I owned up to having made a mistake and I set the bar for what I thought the consequences of that should be."
Her departure was a blow for the governor, Mark Carney, and his drive for a more diverse bank.
The Monetary Policy Committee, the Bank's interest rate setting body of which she was a member, now has only one woman among its nine rate setters.
And earlier this week Ben Broadbent, one of the four male deputy governors at the Bank, apologised after describing the economy as "menopausal", a word he admitted had ageist and sexist overtones.
At the time of her resignation, George Osborne, the former chancellor, asked whether a senior male executive at the Bank would have been treated the same way if he failed to register that his sister worked in the financial services sector.
I asked Ms Hogg whether she agreed.
"I don't think it profits anybody, or it certainly doesn't profit me, to think about that," she replied.
"It's more how do you set the rules for yourself and how do you live by them, and how do you learn from that, and I'm very happy to be where I am."
'Human'
I asked Ms Hogg what message she might give her 20-year-old-self - and younger women now just starting their careers.
"We need to give women in our society the opportunity to contribute in any way they want, whether it's financial services or in schools," she said.
"And if by seeing one person who's gone through a bit of a bump, but has learnt through that, helps them to find whatever their path is in life, then that would be a good thing.
"I mean, we're human.
"I doubt any of us could look through all of our lives and say that it's entirely without mistakes, or could we say that those mistakes haven't helped us to grow perhaps more than things that have gone well for us."
Ms Hogg said that Visa - which has a gender pay gap of 10%, low compared with many banks for example - has made improving diversity a key challenge.
"As a leader of Visa, I want it to be a more diverse organisation.
"It already is - last year it was 25% senior women, today it's 33% and we're going up from there.
"It's not just about gender, it's about all forms of opinion and all forms of protected characteristics, but it's a good start, so I think I have a responsibility and I hope I live up to that."