Tesco Direct closure puts 500 jobs at risk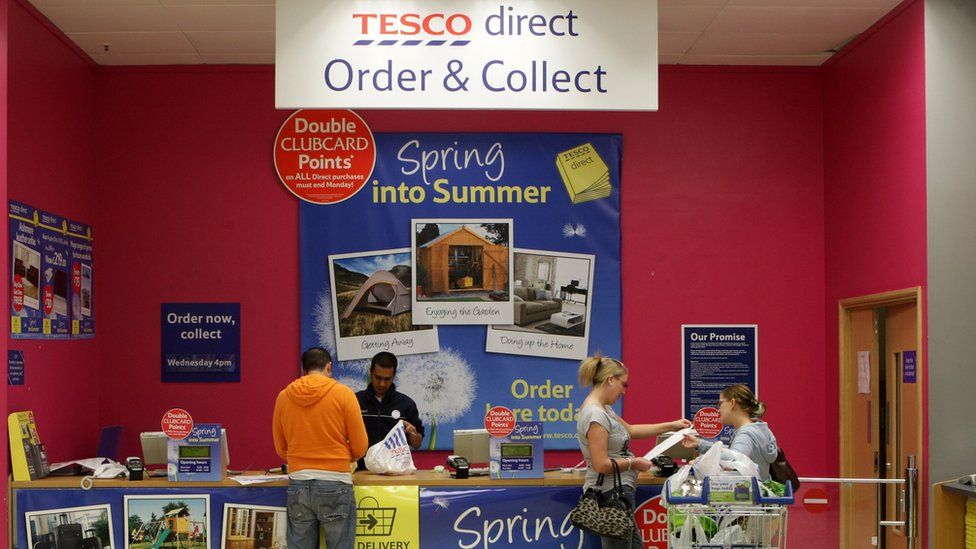 Tesco plans to close its Tesco Direct website that sells general merchandise, putting 500 jobs at risk.
The retailer said the non-food website was a "small, loss-making part of the business" and had "no route to profitability".
Tesco said the site faced high delivery and marketing costs that meant it could not work as a standalone business.
It will close the Direct site on 9 July and the Fenny Lock distribution centre in Milton Keynes in late August.
The decision means about 500 workers are now at risk of redundancy.
Charles Wilson, Tesco's UK chief, said the retailer wanted to focus on one website so that customers could buy groceries and non-food items in one place.
"This decision has been a very difficult one to make, but it is an essential step towards establishing a more sustainable non-food offer and growing our business for the future," he said.
Joanne McGuinness, national officer for the Usdaw union, said the decision was devastating news for Tesco Direct staff.
"Our priorities will be to support, advise and represent our members through this difficult period and to get the best possible deal for them," she said.
Clive Black at Shore Capital said Tesco Direct had been a "running sore" and lost money since its inception in 2006.
"This is a clear signal that the company is taking decisive action and is the first demonstrable statement by Charles Wilson since he joined the group in early March," he added.
Anika Newjoto, editor of shopperpoints.co.uk, a site that covers supermarket loyalty schemes, said the closure of Tesco Direct did not come as a surprise.
"Even with advantages such as Clubcard points and 'click and collect' delivery to Tesco stores it is incredibly difficult to compete with Amazon these days," she said.
"Sainsbury's closed its Entertainment site a couple of years ago and if Tesco can't make it work it is difficult to see who can. Whilst Tesco is promising to add non-food lines to the grocery website I would be very surprised if this is much more than a small selection."
Tesco Mobile products will remain available on Tesco.com, along with its uniform embroidery service.
The grocery-focused site is used by an average of 100,000 customers a day.