Turkish lira rallies after emergency rate hike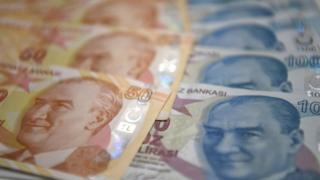 The Turkish lira has pared its heavy losses against the dollar following an emergency interest rate hike by the central bank.
The currency climbed 2.6% higher having fallen 5% earlier to hit a record low.
The lira has lost more than a fifth of its value this year as fears grow that the government might undermine the powers of Turkey's central bank.
Many investors have been calling for higher interest rates to bring down inflation, which is in double figures.
Following an emergency meeting, the Turkish central bank steeply raised a benchmark lending rate from 13.5% to 16.5%.
"Current elevated levels of inflation and inflation expectations continue to pose risks on the pricing behaviour," the central bank said.
"Accordingly, the committee decided to implement a strong monetary tightening to support price stability."
The crisis began after the Turkish president said he planned to take more control of the country's finances after a general election on 24 June.
Recep Tayyip Erdogan has previously described himself as an "enemy of interest rates".
He has also implied that foreign powers are to blame for the lira's collapse.
Turkey's President Erdogan calls snap election in June
Following the bank's move, Erdogan said "financial discipline will continue and the necessary things will be done for financial stability".
But he also said the currency's volatility did not reflect economic reality and warned that he would not let "global governance types" ruin the country.
The lira fell as low as 4.8450 against the dollar early on Wednesday before recovering. However, it is still down by around 17% since the end of 2017.
Peter Dixon, an economist at Commerzbank, said investors were concerned about the amount of financial power that could end up in Mr Erdogan's hands.
"I think markets are beginning to take fright at the extent of government interference over certainly central bank policy," he said.
"That's certainly been one of the factors which has caused the lira to lose ground. It's been a trend which has been ongoing for some time, but I think the rhetoric is being cranked up now."