'Beast from the East' bites B&Q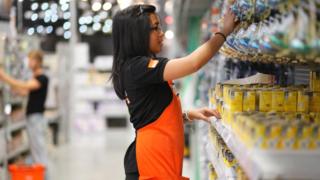 The wave of cold weather dubbed the Beast from the East took a big bite out of B&Q's sales in the three months to 30 April, its owner Kingfisher has said.
Like-for-like sales at the DIY chain tumbled 9% in the UK and Ireland.
The woe was not contained to the UK for Kingfisher, with sales at its French DIY chain Castorama also dropping 8%.
The falls led to an overall 4% decline in like-for-like sales for the quarter.
Chief executive Véronique Laury said: "It was a challenging start to the year with exceptionally harsh weather across Europe and weak UK consumer demand.
"This impacted footfall, especially sales of weather-related categories. February and March were particularly affected with sales improving over the course of April and into May."
Ms Laury said market conditions in the UK remained uncertain, as demonstrated by recent weak retail sales, while France was "encouraging, but volatile".
Despite the cold weather, sales at Screwfix still rose by 3.6% in the UK, although Kingfisher said sales would have been higher if it had not been forced to close some stores temporarily due to the weather.
Total sales for the company fell 1.2% to £2.8bn, while sales in the UK were down 3.7% to £1.2bn.
B&Q has closed 65 stores and cut about 3,000 jobs over the past two years as part of Kingfisher's bid to revive its fortunes.
Ms Laury said the turnaround was beginning to bear fruit, with about 40% of its product ranges now unified across its markets.
Richard Hunter, head of markets at Interactive Investor, said: "There is little to suggest at this stage that the full-year performance will be missed, since April and May saw some improvement.
"Nonetheless, there has been enough uncertainty to put pressure on the performance of the stock, which has dropped 16.5% over the last three months alone. Even so, the market view towards the company remains optimistic."
Shares in Kingfisher fell 3.1% in morning trading to 286p.
The freezing conditions this winter have taken their toll on many retailers, with Greggs reporting a slowdown in sales for the first 18 weeks of the year.
Debenhams, which temporarily closed 100 UK stores in late February due to the weather, said last month that like-for-like sales fell 2.2% in the 26 weeks to 3 March.