Retail sales bounce back in April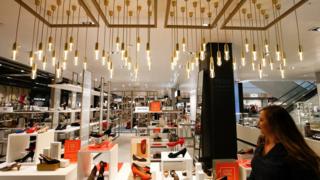 Retail sales rose by a better-than-expected 1.6% in April as consumers resumed spending after unseasonably cold weather earlier in the year.
However, the Office for National Statistics said the sector remained broadly subdued, and analysts said the underlying trend was "lacklustre".
In the three months to April, sales rose just 0.1% on the previous quarter.
April's figure was boosted by a 4.7% surge in petrol sales, after falling in March because of the snow disruption.
"Retail sales bounced back in April, as petrol and other sales recovered from the snowfall. But the underlying position remains subdued with the volume of goods sold over the last six months broadly unchanged," said Rob Kent-Smith of the ONS.
"Department stores declined following relatively strong sales last month, when their online sales were boosted during the adverse weather.
"Over the longer-term, retail sales growth has slowed considerably, with increases in food, household goods and internet retailers being largely offset by declines across all other types of retailing."
Online continued to take a bigger slice of spending, up from 16.1% last April to 17.3%, with both food and clothing stores achieving record online proportions.
In March, sales had fallen by 1.8% and recorded their biggest quarterly fall in seven years.
'Lacklustre' performance
Samuel Tombs at Pantheon Macroeconomics said the April rise reflected a recovery from snow-induced weakness in March, rather than robust spending momentum.
"We continue to expect retail spending to increase only at a glacial rate this year. Consumers' confidence has weakened and savings intentions have picked up," he said.
"The sharp rise in oil prices to nearly $80 will filter through to petrol pumps over the next three weeks, hitting petrol sales volumes and squeezing the amount of money households have left for discretionary consumption."
Ben Brettell of Hargreaves Lansdown said the underlying trend for retail sales remained "pretty lacklustre" and the figures were little incentive for the Bank of England to raise interest rates.
"Growth is anaemic at best, and retail sales look insipid. But with inflation falling back towards target and real wages finally growing, albeit only slowly, there's little cause for alarm either," he said.
A wide range of retailers have come under intense pressure in recent months as a combination of changing spending patterns, higher costs and online competition has forced some to the wall and others to close stores and seek rent reductions.
Big names such as Toys R Us and Maplin have collapsed, while chains including Marks and Spencer, Mothercare, Carpetright, New Look and House of Fraser plan to close hundreds of shops in a bid to shore up their finances.
Even retailers that have not been forced to take such drastic steps are grappling with the challenge of lower margins and profitability.