Netflix eclipses Disney in market milestone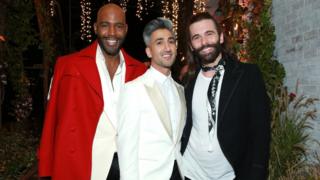 Netflix briefly claimed the title of the world's most valuable media company on Thursday.
Shares in the online streaming giant rose more than 2% in afternoon trading in New York, pushing the firm's market value to more than $153bn (£114bn).
The ascent briefly eclipsed rival Walt Disney, which has been shaken by Netflix's success at luring US households from cable TV providers.
Netflix shares subsequently fell back, closing the day up 1.3% at $349.29.
Netflix was founded in the US in 1997 as a DVD rental service and made its stock market debut five years later with about one million subscribers.
It now has 125 million streaming memberships in more than 190 countries, with viewers watching for more than 140 million hours each day.
Its share price has more than doubled in the past 12 months, as the firm announced it was investing billions in original shows and movies, including a production deal with Barack and Michelle Obama.
It is also branching out into new partnerships for distribution, including with Sky in the UK.
At the end of trading on Thursday in New York Netflix was worth $151.8bn. Its shares have soared about 80% this year.
The inroads made by sites such as YouTube, Amazon and Netflix - which launched its streaming service in 2007 - are forcing traditional firms to act, spurring a slew of mergers and other deals.
Disney last year said it would stop licensing some content to Netflix and launch its own online subscription service. It is also buying most of 21st Century Fox in an effort to broaden its content and strengthen those offerings.
However, that deal could be derailed by a higher offer from Comcast, which owns NBC Universal.
The potential bidding war has cast a shadow over share prices at the two companies.
Disney and Comcast shares both slipped about 0.8% on Thursday, pushing their market values to about $152bn and $143bn respectively.