Essential bill arrears 'more likely among women'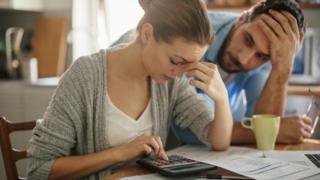 About three million people were in arrears on an essential bill last year, with women most likely to have fallen behind on payments, a charity has said.
Priority bills include essential household payments such as council tax, energy bills and mortgage repayments.
Debt charity StepChange said that women accounted for two-thirds of its clients who had missed one of these payments.
The estimate comes as the latest figures from the UK's High Street banks show a rise in credit card spending.
The data from UK Finance, which represents the major banks, said card spending in April was 9.8% higher than a year earlier, at £10.1bn.
Outstanding levels of credit card debt grew by 5.2% over the year, although this was down from an annual growth rate of 5.7% in March.
StepChange said that an estimated 9.3 million people used credit last year to meet a household need.
Many were taking on more credit to deal with priority bills, the charity said.
Arrears on these bills were most commonly on council tax (30% of cases), followed by water bills (23.7%), rent (21.5%) and a mortgage (20.6%).
These arrears were more common among women than men. Among the possible reasons for this were the increased potential for disruption to their income, lower average incomes compared to men, and the prevalence of single parents among those in debt - the majority of whom were women.
Peter Tutton, head of policy at StepChange, said: "There is a huge opportunity for utilities providers, local authorities, landlords and other creditors to reflect on how they can create more flexible and personalised payment schedules for people whose incomes fluctuate.
"For example, higher payments in some months and lower payments in others could help people to work around foreseeable financial pinch points in the year, and potentially help them to keep up their agreed payments."