Football urged to tackle single-use plastics problem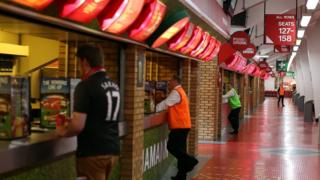 Football leagues in England, Scotland, Wales and Northern Ireland are being urged to stop using single-use plastic.
A House of Commons committee has written to the chairmen of the four leagues to encourage them to follow the example of England's Premier League.
It plans to phase out single-use plastics in its operations and supply chains over the next two years.
Plastic cups, bottles, bags, stirrers, trays and cutlery are all by-products of football matches.
The English Football League has 72 member clubs and is the single largest body of professional clubs in European football.
Labour MP Mary Creagh, who chairs the Environmental Audit Committee, has called on club chairmen to "mobilise the power of sport" in moving away from single-use plastic.
She also asked whether each league had considered introducing a bottle return scheme.
'Leadership'
"Plastic litter ruins our streets, chokes our seas and endangers wildlife," she said. "We all need to do our bit to tackle the scourge of plastic pollution.
"There is a huge opportunity for sports organisations to reduce the use of throwaway plastic at matches and encourage fans to reduce, reuse and recycle. I want the UK's football leagues to show leadership on this issue."
It comes after a series of announcements by the UK government and businesses to tackle the issue of plastic waste.
More than 40 companies have signed up to a pact to cut plastic pollution over the next seven years. The firms, which include Coca-Cola and Asda, have promised to honour a number of pledges such as eliminating single-use packaging through better design.
They have joined the government, trade associations and campaigners to form the UK Plastics Pact.
The signatories are responsible for more than 80% of plastic packaging on products sold through UK supermarkets.
One of the promises which companies, such as consumer goods giant Procter & Gamble and Marks & Spencer, have signed up to is to make 100% of plastic packaging ready for recycling or composting by 2025.