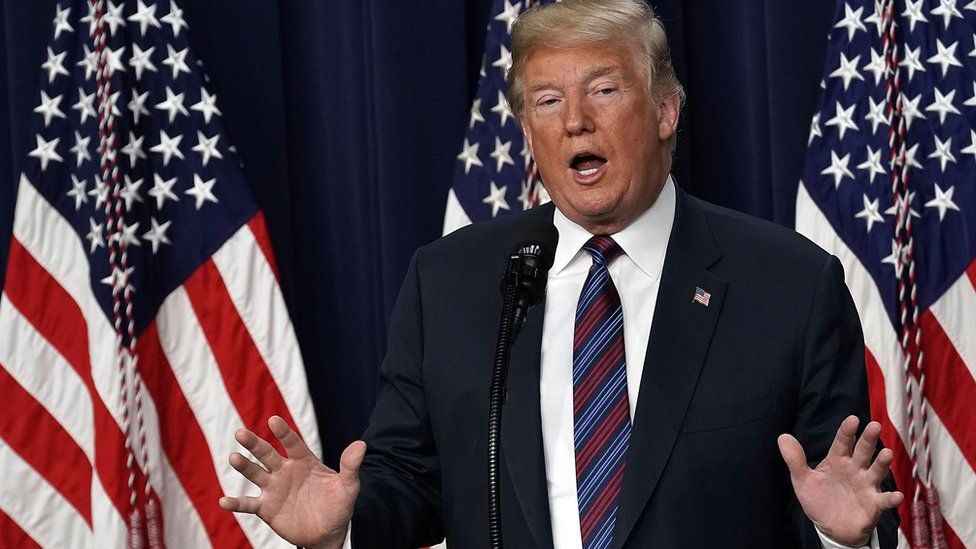 On again, off again. The Trump administration seems to have a knack for keeping everyone guessing - not just on the North Korean summit - but also on trade.
So, is the US-China trade war back on?
Trade talks versus trade wars
Just a week after it looked like the US and China had agreed to put their trade war on hold, Washington now appears to be escalating trade tensions with Beijing.
Analysts say this move could cast a shadow over the potential success of talks between the US and China in Beijing over the next couple of days.
What the US wants from China
Beijing has indicated that it will buy some US agricultural exports to balance the deficit, but that may not be enough to appease US trade hawks.
The US also wants to address the intellectual property theft that it alleges Chinese firms have benefited from, and the country's Made in China 2025 programme, which is a multi-billion dollar plan to help transform its high-tech industries into world leaders by 2025.
Deborah Elms of the Asian Trade Centre says that particular White House announcement, and the timing of it, may just be another bargaining tactic.
In her latest note, she says the move seems designed to increase the pressure on China to co-operate ahead of trade talks between the two sides later this week, especially given the accusations that US President Trump has faced from the US press and domestic political circles (they've accused him of going soft on China).
A nuanced, diplomatic response.
But take a look at the nationalistic publication, the Global Times, and you get a better idea of what the Chinese may be thinking.
"Washington suffers from a delusion whereby it feels the US is strong enough to force other countries to accept their unreasonable demands," said Wednesday's editorial.
"Let them prepare for an 'epic trade war'."
The editorial goes on to say if China did actually go ahead with a full blown trade war, that America's farmers, automobile manufacturers, and energy workforce would be at risk.
Will the US strategy work?
So what do these latest moves by the White House mean for US-China trade relations?
Well, for one thing, Vinesh Motwani of Silk Road Research tells me that we're unlikely to see very much come from Mr Ross' upcoming visit to China.
Which means that a trade war between the two sides is far closer than it was late last week.