Carluccio's rescue plan could close 30 restaurants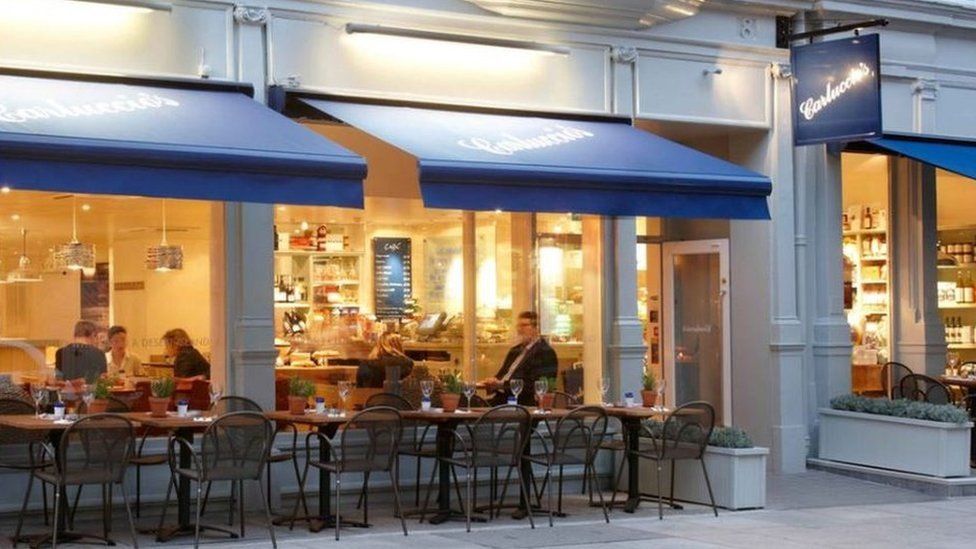 Carluccio's could close up to a third of its branches in a Company Voluntary Arrangement (CVA) rescue plan.
Over 90% of Carluccio's creditors approved the CVA, allowing it to close 30 loss-making restaurants.
Under the plan, the company's majority owner, the Dubai-based Landmark Group, will invest £10m in upgrading the remaining restaurants.
It joins a growing list of restaurant chains cutting back in the face of higher costs and competition.
In the year to 25 September 2016, even though revenues rose 2.7%, spiralling costs meant Carluccio's pre-tax profits fell by 81% to just £982,000.
The company, which runs 103 restaurants across the UK, had a management shake-up in January, with a new chief executive, Mark Jones, former boss of Goals Soccer Centres, and a new chief financial officer, Andrew Campbell, from YO! Sushi.
Mr Jones said: "The positive outcome enables us to kick-start an extensive programme of reinvigoration... with the aim of elevating the guest experience and underpinned by our brand ethos of minimum of fuss, maximum of flavour, which was so passionately championed by our founder Antonio Carluccio."
Earlier this month, following a strategic review, the new team admitted that "urgent action" was needed to keep Carluccio's afloat.
The casual dining sector of the restaurant trade has been suffering from a general fall in consumer spending. Chains have also faced higher rents and rates, as well as rising wages with the increase in the National Living Wage. Prezzo, Jamie's Italian and Byron also used CVAs to close restaurants.
Italian ingredients, from prosciutto to pecorino, have become more expensive since the devaluation of the pound in 2016.
Stephen Minnall, a restaurant consultant and former director of Pizza Hut, said: "They have been caught in a perfect storm. Food costs have gone up. Dairy has gone up 10% - when you order a coffee, it's the milk that costs the money, not the coffee.
"Then the government says you have to pay a higher wage, and then the apprenticeship levy. So the answer is to start a CVA and try to reduce your rental bill."
He said that Carluccio's would be negotiating with landlords to reduce their rents and closing stores if they could not get them low enough.
He said: "It'll be a question of whether the landlords can hold their nerve. And it can get messy with different rental agreements, for instance, forcing you to pay rent until another tenant is found, or putting a shop front back to the state it was in before you got it."
Carluccio has already tried to rebrand itself several times, introducing Via Carluccio's, a grab-and-go format in Tottenham Court Road, a hotel restaurant, and serving pizza for the first time in 2016.
But much of the new competition in London is now coming not from other chains, but small independent start-ups such as Padella, Sorella, Flour and Grape or Sager and Wilde, which can be more flexible on pricing and menus.
Carluccio's was co-founded by chef and restaurateur Antonio Carluccio as an Italian food shop in 1991 with the first cafe opening in Market Place, London, in 1999. Its deliberately simple Italian food and drink proved to be immensely popular. In 2010, it was bought by Landmark for £90m.
Carluccio himself died in November last year aged 80, having sold his majority stake in the company in 2005.