Why RuPaul's Drag Race is big business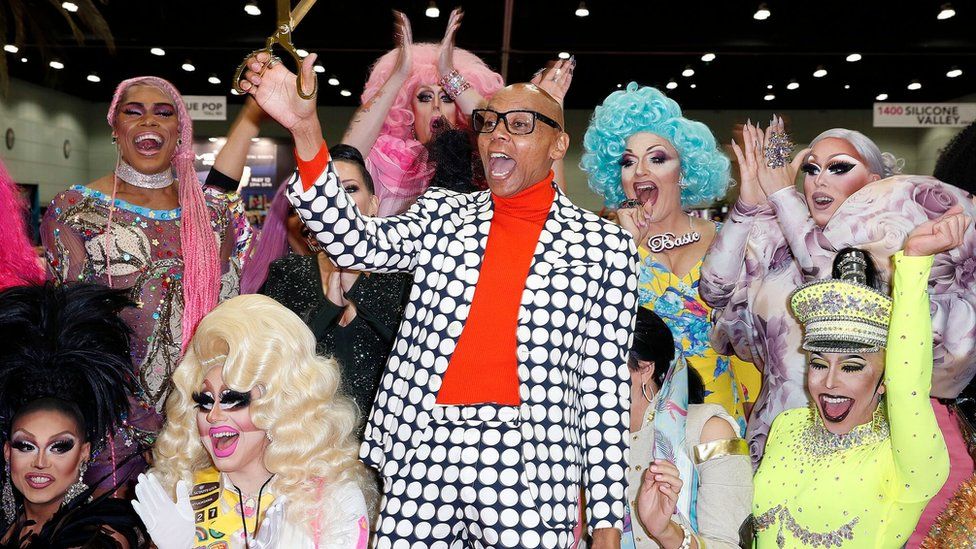 RuPaul's Drag Race, the US reality show where talented drag queens design, dance, act and lip-sync their way to compete for a $100,000 prize, has been one of the more unlikely small screen hits.
Now in its tenth season, the show presented and co-created by drag queen extraordinaire RuPaul Charles, has spawned a lucrative spin-off industry. It includes world tours featuring former contestants that draw tens of thousands of fans and events in Los Angeles and New York called DragCon.
Could DragCon, where drag queens from the show meet fans and sell their T-shirts, books and enamel pins, and even a UK version of the show soon be crossing the Atlantic?
Fenton Bailey and Randy Barbato, co-founders of World of Wonder - the production company that makes Drag Race - say "something is coming". Bailey quips: "Be afraid - be very afraid. Nothing's impossible."
Last year's DragCon generated $9m in merchandise sales on top of the $40 entry fee paid by more than 40,000 people last year.
Barbato expects sales to be even higher this year given more than 50,000 fans attended DragCon in LA last month.
Bailey says 60% of those who attended were women and half were straight: "The idea this is an LGBT niche phenomena is not really true - it is a broader audience."
However, Drag Race may not have happened at all if it wasn't for a confluence of technological, political and cultural change - as well as a touch of luck.
After graduating from Oxford University, Portsmouth-born Bailey travelled to New York in the early 1980s to attend film school where he met New Jersey native Barbato.
They would skip classes to go the Pyramid Club in Manhattan's East Village for its eye-wateringly strong drinks ("all gin with a splash of tonic") and, more importantly, the drag queens. "There were so many of them and all of them were so talented, doing shows and performing," says Bailey.
"It was like this art commune and they were prescient in their ability to fuse what was happening in pop culture and politics and entertainment and put on a show every night. We were awe-struck."
After a brief pop music career as The Fabulous Pop Tarts and a fortuitous encounter with a young drag queen called RuPaul - who they saw putting up posters of himself on the street that read "RuPaul is everything" - Bailey and Barbato established their own production company, World of Wonder, in 1991.
They were also managing RuPaul and it was around the time of his breakthrough hit single Supermodel (You Better Work) in 1993 that the idea of a TV show featuring drag queens first emerged.
Bailey says: "It wasn't called Drag Race. The idea was finding America's next top drag queen."
However, no network picked it up and it only after World of Wonder appointed a new head of development called Tom Campbell in 2007 that they and RuPaul revisited the idea of a show and gave it one more shot.
Logo, a network run by Viacom, picked the programme up and its first season aired in 2009.
Barbato says that the timing was right for RuPaul's Drag Race, not least because it coincided with the advent of social media platforms such Twitter and Instagram.
"Social media has played a really important role in its move from a niche programme to a more mainstream and global one," he says.
For season nine, Drag Race moved to Viacom's VH1 network which is available in more US homes and the season 10 premiere attracted one million viewers - the highest audience. Drag Race is available on Netflix in the UK.
Viewing parties in the US started in in the gay venues but they have now spread to straight bars too, Barbato says. "That's what we're particularly proud of because it has been a great boom for gay bars and their businesses which we are huge supporters of - and a lot of gay bars are hiring these girls."
That means that the earning potential for some of the 112 Drag Race contestants who have appeared on the show has grown, regardless of when they "sashay away" (the term RuPaul uses when a queen is told to depart) from the show.
Barbato says: "It is the only real TV franchise where in some ways everyone is a winner, because all these girls go out and they may tour around the globe. Some of them make between $5,000 and $10,000 per appearance. Many of these girls are making six figures a year - [they were] on a fraction of that before."
Willam Belli, who appeared on season four and remains the only contestant to be disqualified, is one queen who has carved out a successful career.
As well as fronting his own YouTube series Beatdown and writing a book Suck Less: Where There's a Willam, There's a Way, he will be appearing as the character Emerald in the remake of A Star is Born starring Lady Gaga.
Making hay while the sun shines is key to getting the most out of your time on Drag Race, says Belli. "Being active on social media while also upping your profile with live is smart. I didn't say no very much."
"Drag Race has given many super-talented people 15 minutes of fame ... Many don't strike while the iron's hot though and are only really seen again sitting at finales or reunions for the show."
As the drag industry grows, however, is there a danger that it risks moving away from its subversive roots?
Jodie Harsh, a London drag queen and DJ, says: "To me, drag will always be a very subversive art form. It tips the notion of gender roles on its head and represents everything the right-wing hate."
Bailey says: "The idea that drag should only be something niche and not commercial - in other words, the idea that no-one should make any money out of performing as drag queens - is a kind of prejudice to wish to keep drag in a little box in a little corner."
The US political landscape has changed radically since Drag Race was first broadcast. In 2009 Barack Obama was moving into the White House, which is now occupied by Donald Trump.
Bailey says drag itself is political. "Something that RuPaul has said 'every time I bat my lashes, it is a political act' is actually a very serious point.
"I think people's revulsion with what Trump and co are doing is driving them to embrace drag and drag is a kind of resistance to what America is going through right now."
Harsh, originally from Canterbury in Kent works all over the world and has seen the effect that Drag Race has had in the US and in Britain.
"The girls on the show are making a ton of cash, and I think the popularity of RuPaul's Drag Race has given queens around the UK an extra level of much-deserved respect - hopefully they too have seen an upturn in show attendance and financial gain," she says.
So if Drag Race does come to the UK, how will our homegrown queens fair?
Harsh thinks it would be fabulous to show drag from the British point of view. "We have very different reference points - seaside entertainment, pantomime, pub culture, 80s London club culture - we're less about pageantry than our American sisters. It would be a very exciting moment."