European football is worth a record £22bn, says Deloitte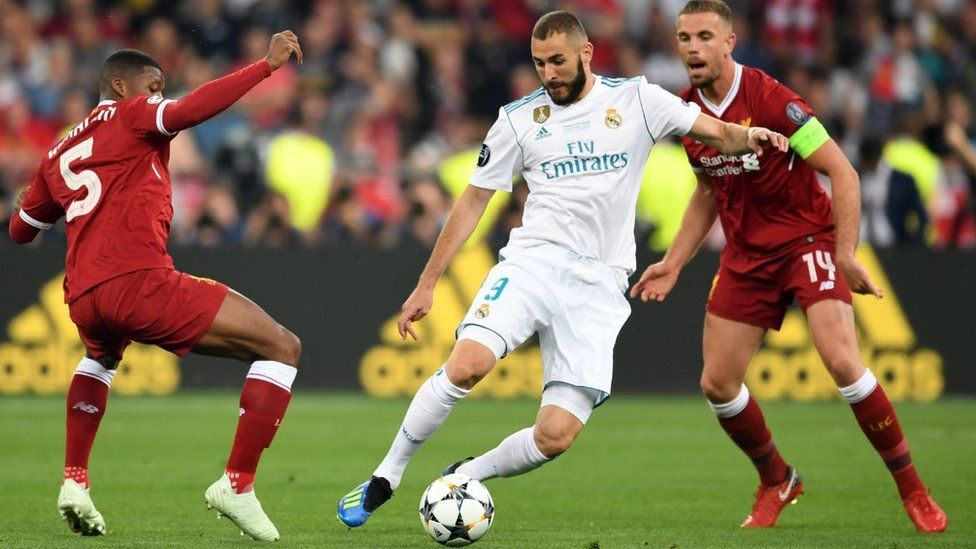 The big five European leagues generated a record €14.7bn (£12.6bn) in revenue in 2016-17, a 9% annual increase, according to new figures from Deloitte.
It says the European football market is now worth some €25.5bn (£21.9bn).
The English Premier League was the market leader, with record revenue of £4.5bn, as each of the 20 clubs set their own annual revenue record.
In revenue terms, the Premier League is 86% larger than its nearest competitor, Spain's La Liga.
Deloitte said the financial results of the 2016-17 football season reflected a new era of improved profitability and financial stability for European football clubs.
'Resilience and strength'
It said the Premier League had benefited from the impact of its record broadcasting deals, as well as from operating in a regulated business environment, via Uefa Financial Fair Play regulations and the league's own cost control measures.
"Just a decade ago, 60% of Premier League clubs were making an operating loss, whereas in the 2016-17 season, all clubs were profitable," said Dan Jones, head of Deloitte's sport business group.
"In addition, and for the first time ever, Premier League clubs' revenues have grown at a faster rate than wages over a 10-year period."
He said that although the sale of the Premier League's domestic TV rights for the 2019-20 to 2021-22 seasons did not deliver the expected financial increase, this should not be a cause for concern.
"The fact that the Premier League has once again shown its resilience and strength by retaining the vast majority of its audience and value has provided market leading financial security to clubs for at least the next four years, providing they are not relegated," Mr Jones added.
"Indeed, once the sales process for the remaining international rights is completed, we expect the league will have delivered overall increases in television revenue."
Other findings regarding English football finances in 2016-17 include:
The top 92 Premier League and Football League clubs generated a record £5.5bn in revenue
Premier League clubs' revenues increased to £4.5bn, an increase of 25% as the first year of a new broadcast rights cycle saw clubs paid between £95m and £150m in central distributions
All top-flight clubs made an operating profit
Championship clubs generated record combined revenues of £720m, a 30% increase from 2015-16. The three newly relegated clubs generated almost one-third of this total revenue
It is now more than five years since an English football club entered insolvency proceedings, reflecting better financial discipline and the positive impact of regulation
The 92 Premier League and Football League clubs contributed £1.9bn to the UK government in taxes (2015-16: £1.6bn).
Meanwhile, Scottish Premiership revenues increased by 63% to £181m in 2016-17, driven by the on-field success of Celtic, and Rangers' participation in Scotland's top flight.
Celtic's participation in the 2016-17 Uefa Champions League contributed €32m, more than the amount distributed across all 12 clubs from the Scottish leagues' own broadcast revenues in 2016-17.
Aggregate match-day and commercial revenues both increased by more than 40%, as Rangers participation in the top division helped to drive Scotland's top tier back into the top 10 revenue generating leagues in Europe.
Outside the UK, the success of La Liga's collective sales approach saw broadcast revenue growth of 20%.
That followed on from 26% growth in the 2015-16 season, has meant collective La Liga revenue grew to a record €2.9bn in 2016-17.
The Spanish league has overtaken the Bundesliga to be the world's second-highest revenue-generating league.
Meanwhile, the German Bundesliga remained the best attended European league, with average crowds of over 44,000.
Bundesliga clubs collectively maintained their strong overall revenue growth, up 15% from 2015-16 to €1.4bn.
Italy's Serie A saw revenue grow by 8% to more than €2bn for the first time. The majority of this growth came from commercial sources, with revenue increasing by €91m (17%) on 2015-16.
More than three-quarters of this was was solely attributable to Internazionale, following the club's acquisition by Chinese electronics retailer Suning in June 2016.
France's Ligue 1 remained the lowest revenue-generating of Europe's "big five" leagues, at €1.6bn in 2016-17, despite entering a new four-year domestic broadcasting rights cycle.