Living in a woodland wonderland: The rise of the tree house
By Elizabeth Hotson
Business reporter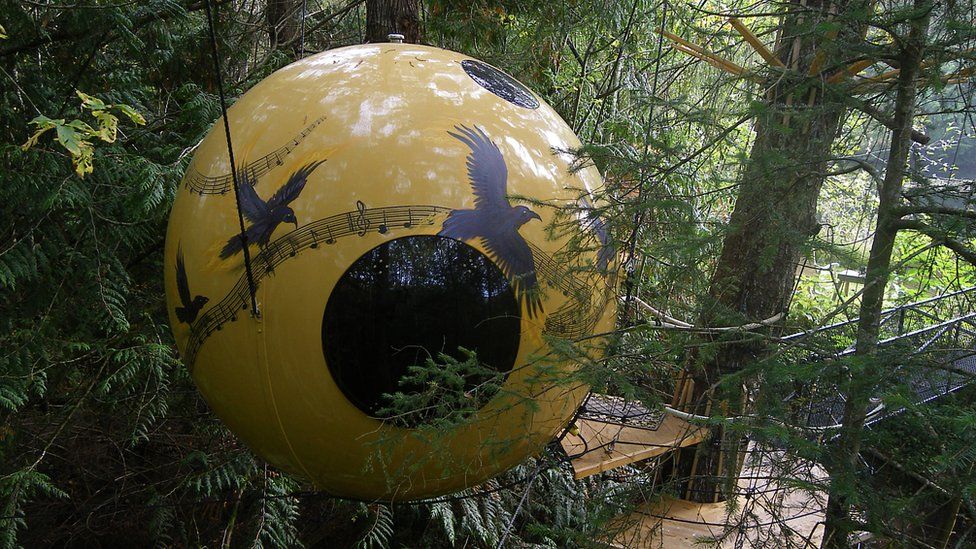 Freedom, fun and adventure.
That is what tree houses have been about for generations of kids. Increasingly however, adults are being lured into spending a night or two among the branches.
Vancouver Island in Canada is home to a rather unusual resort called Free Spirit Spheres. Founded in 1998 by Tom Chudleigh, it offers guests the opportunity to stay in one of three yellow spheres - Eva, Eryn or Melody - which are suspended from trees.
Eve is made of yellow cedar wood and Eryn of Sitka spruce, while Melody is constructed from fibreglass.
"I start with a shell, then add frames and insulation and put in the floor," explains Mr Chudleigh.
"I make all the fixtures and fittings by hand; the local hardware stores don't make door hinges to fit spheres. When the pods are ready, they are hung from a spider's web of rope, which is replaced every three years."
Guests enter the tree houses through a spiral staircase that wraps around one of the trees. Mr Chudleigh says that the pods' unique shape is not just a gimmick.
"The sphere works like a nutshell, it is nature's packaging unit. It is really light and strong and if something falls on it, for example a tree branch, the spherical shape means that the impact is spread over the entire structure."
So does the sway make guests feel a bit queasy? Mr Chudleigh says not.
"The spheres always dwell in the centre of a triangle of trees. The tethers or support ropes are very near vertical... which makes sure the load is 'in column', or straight down the tree, and this minimizes the movement of the sphere."
Typical customers are couples who want to do something a bit different, and despite the considerable price tag, demand is high.
"The average cost per sphere is $275 (£157) a night," says Mr Chudleigh.
"Visitor numbers have probably doubled in the past five years. In 1998, Eve, our first pod, got about 30-50 guests a year. By 2012 each sphere was getting 200 sets of customers a year and they are rented out for around 300 nights of the year."
Although Mr Chudleigh's designs appear to be from another dimension, they are part of a wider trend when it comes to modern tree houses; big, bold and often expensive creations built for and by adults.
Pete Nelson, presenter of US TV series Treehouse Masters, was one of the pioneers of the new breed of tree dwellings. His 1994 book, Treehouses: The Art and Craft of Living Out on a Limb, became a surprise hit and inspired a new generation of tree house enthusiasts. Now, Mr Nelson designs and builds individual tree houses for private clients, as well as million dollar projects for corporate customers.
One of his customers is the tech giant Microsoft, for which Mr Nelson is creating a three-building structure. The hope is that it will give employees space to think, away from a conventional office.
"Studies show people can work better in nature, they are more productive," says Mr Nelson. "When I visited during the build there were around 15 people typing away on their laptops."
The idea of getting away from it all is also fundamental to the Treehotel in Sweden. The brainchild of Kent and Britta Lindvall it consists of seven ethereal structures, erected in the forests near the village of Boden, 30 miles south of the Arctic Circle in Lapland.
Walking round the complex is surreal. Turn a corner and you might spot a giant mirrored cube hanging among the trees, go down a clearing and you are greeted with a set of steps slowly descending from a UFO.
Mr Lindvall says that there is method to this madness. Each of the rooms was designed by an architect tasked with making use of the changing light and natural surroundings.
"In some rooms there are big windows so that guests can get close to what is outside; snow, rain, the northern lights and the midnight sun in summer. Other rooms such as the UFO and the Birds' Nest don't have any windows; they deliberately feel cosy and dark."
As travellers have widened their horizons, the Treehotel has expanded.
"In our first year, 2010, we had four rooms and around 1,500 guests a year," says Mr Lindvall. "Today we have seven rooms and nearly 5,000 guests."
Is it really for the kids?
While some of the most ambitious builds in the tree house world are done for companies and hotels, private customers are also part of the boom. In Bristol, UK, a firm called Squirrel Designs caters to families, with tree houses that cost up to £70,000.
Simon Martin, who runs the company with business partner Nick Low, says their creations can be seen as investments.
"Often our clients are trying to add value to their properties, it might be that they have renovated their house and want something to set it apart."
Many customers are motivated by nostalgia, Mr Martin adds.
"A lot of the parents we talk to read [Enid Blyton's] Famous Five as kids and are fulfilling their own dreams. We'll build a treehouse that is supposedly for the kids, but often the first person down the zip wire or rope swing is the dad."
One of Squirrel Designs' recent projects was a one-bedroom construction, the size of a small studio apartment, with a veranda big enough for a substantial dining table. It was built for Rebecca Moss, husband Nick and children Jack, Monty, Eddy and Harry.
"We use it as extra accommodation and for somewhere for the boys to have sleepovers," says Mrs Moss. "We wanted something fun, but that would blend in with the woodland."
Mrs Moss adds that although the the substantial hexagonal structure is a luxury item, it's not a folly,
"It's a form of house extension and if we did come to sell the house I think it would make it stand out.
"If we needed to we could put it on Airbnb or rent it out, so it definitely won't be just sitting there, rotting away."