The people making money from Fortnite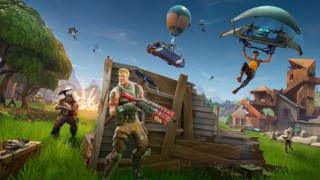 Video game Fortnite has attracted millions of fans worldwide, including Canadian musician Drake and England footballer Dele Alli.
Free to play, it involves 100 players in a battle royale situation, where combatants fight until one person is left standing.
The last figures released showed 45 million players in total, but that was back in January. A lot has changed since then.
App tracker Sensor Tower says Fortnite has been downloaded on Apple devices more than 30 million times since mid-March.
It managed to generate $296m (£222m) in April from in-app purchases alone. And that's more than double the revenue for February, according to market research firm SuperData Research.
However, creator Epic Games, 40%-owned by Chinese tech titan Tencent, isn't the only one making money out of Fortnite's infectious popularity.
The top gamer
Michael Baty, 28, works at an Asda store near to his Falkirk home. But he's also something of a celebrity, his name spoken in school classrooms and gaming chat forums. That's because he is the top-ranked Fortnite player in the UK.
"When I go out or meet new people, I'm the Fortnite guy - people have heard of me before I meet them."
Strangers' appreciation of Michael's playing style extends to sending him money. "People sometimes donate to me as a player. I've received as much as $100 in one-off donations."
He also receives an income from subscriptions on a site called Twitch, which allows you to stream your games. For each subscriber he earns about $2.50 a month.
Michael plays Fortnite up to 12 hours a day, depending on whether he's working or has other plans, and prefers to focus on enjoying the game.
"I haven't tried to make a full-time living out of it but I think it's a possibility."
The accessory business
Fortnite can be played on a console, PC or through an app. But as well as a device to access the game, most players use a headset.
Turtle Beach is a headset supplier that's seen demand surge. In May, it revealed a 185% rise in annual sales.
"By the third week of January we knew something was going on", says Juergen Stark, Turtle Beach's chief executive, who largely attributes the boost in sales to the popularity of Fortnite.
"The importance of the headset is that it brings the social element - as well as the survival advantage of better communication, and of enhancing the experience with surround sound."
With other game developers taking note of the rise of battle royale concepts, Turtle Beach is expecting its sales to keep growing.
The pro-buddy
For those who want to improve their game, a helping hand can be enlisted in the form of a pro-gaming buddy. This is a player with an impressive record on Fortnite who provides remote coaching and guides clients through the game.
Aaron Hobson is working as a pro-buddy alongside training to be an accountant.
He says he helps with strategy for maximising kills in the game, including developing defensive structures, known as building.
"Building's probably the most critical part of Fortnite. If you can't build and save yourself from getting shot, you'll just get killed."
Aaron charges £7 an hour for his time.
Listings site Bidvine sets out the role of a pro-gamer. "All you need to be a Fortnite Pro Buddy is a strong wireless connection, a PS4, Xbox 1 or a gaming PC. Oh - and at least 25 wins!"
It suggests a charge of up to £30 per hour, but invites potential pro-buddies to set their own rates.
The streaming service
Big corporations are now getting in on the act too, in the form of live streaming, as growing numbers of people want to watch others' games.
Facebook has launched Fb.gg, to compete with Amazon-owned Twitch and Google-owned YouTube. There's a key reason: the young viewers are a big draw for advertisers.
In April, a game joined by Drake racked up 635,000 concurrent views.
As Turtle Beach's Juergen Stark says: "It's more than a game... it's a place to hang out."