House of Fraser closures: 'We've got nothing left in the town'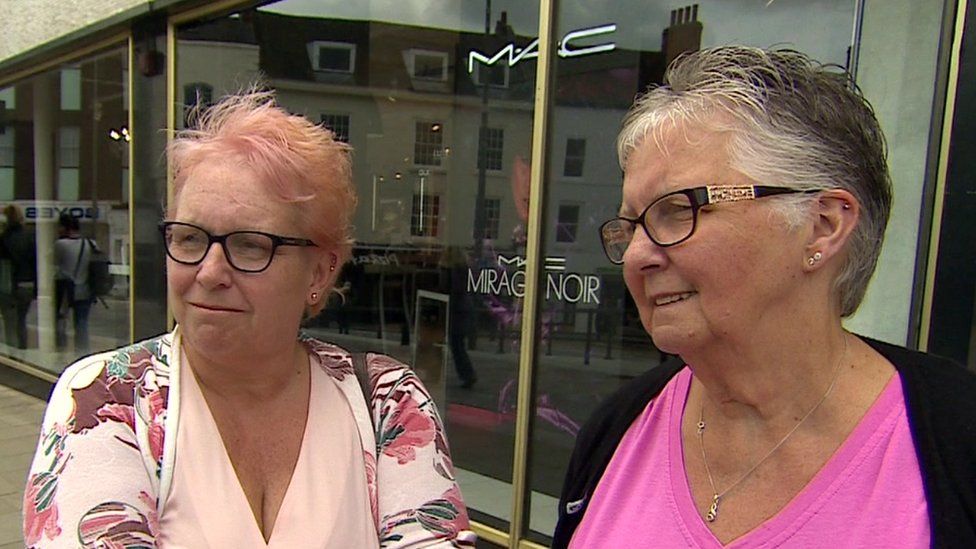 The news that Binns department store in Darlington is set to go as part of House of Fraser's programme of closures is dismaying loyal customers in the north eastern town.
"What are people going to come into town for? Nothing," says one woman passing by the elegant, art deco shop front that dominates the town's shopping district.
"Marks will go, this'll go and then we've got nothing left in the town," agrees her companion.
Binns has been the heart of Darlington's shopping centre since it was built in the 1920s, becoming part of the House of Fraser chain in the 1950s.
For Darlington it's just the latest blow in a series of retail misfortunes: BHS went in 2016, and McDonald's shut its High Street outlet. Last year, Starbucks closed doors on customers and TK Maxx moved out of the town centre. Marks & Spencer has just announced it is also planning to pull out.
But the closure of Binns, the town's biggest retail unit, is the hardest to stomach for shoppers of all ages.
"It's the only shop I bother with in town," says a young woman, who goes there for clothes, perfume and make-up.
"It can't close," says her friend, a young mother, who buys baby clothes and equipment there.
Just 18 months ago Binns underwent a major refurbishment. Major new brands including Bobbi Brown, Mac Cosmetics, Hugo Boss and Tommy Hilfiger were introduced.
That wasn't enough to save the site from closure, however, with the loss of jobs and the inevitable knock-on impact on other retailers nearby.
"This is terrible news for the town and terrible news for all the wonderful staff there," says Jennifer Veitch who lives 20 minutes outside Darlington, but often goes to Binns to shop or use the cafe and then visits other town centre outlets too.
"Without Binns I won't have a good enough reason to travel there. It would make more sense to travel the extra miles to Newcastle or even Leeds," she says.
Graham Soult, founder of retail consultancy CannyInsights.com, says it is the knock-on effect that is most worrying. For its size Darlington still has plenty of promise as a retail centre, he argues. But there's a real risk that doom-laden headlines will undermine independent retailers who might otherwise rise to the new challenge and new opportunities.
"It's a horrible combination of things," he says.
"Darlington still has a good retail offer, but it is a blow when you have these stores occupying very prominent premises and you lose them in a short time frame.
"Places evolve, but the pace of that evolution has really picked up in a way that is quite unsettling."
For local councillor Chris McEwan, who has a lead role in regeneration at Darlington Borough Council, the closure of Binns represents a very practical challenge as the council focuses efforts on how to rejuvenate the town centre.
"The impact is going to be catastrophic," he laments. "We do feel hard hit [but] we're not taking it lying down."
He says the council is holding out hope that an alternative retailer can be found to take up residence behind the town's most famous store front.
"We need to see if we can maintain a retail presence and then we need to start work with the building owners to think about alternative use.
"We cannot allow it to be boarded up for any length of time," he says. "But we need to recognise it's the art of the possible."