Trump economic adviser Larry Kudlow suffers 'mild' heart attack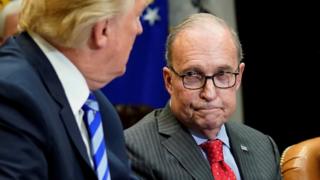 US President Donald Trump's top economic adviser, Larry Kudlow, has suffered what doctors say was a "very mild" heart attack.
He is expected to make a full recovery, White House press secretary Sarah Huckabee Sanders said in a statement.
President Trump first tweeted the news before his historic meeting with North Korean leader Kim Jong-un in Singapore.
Mr Kudlow, 70, recently accompanied the president to a G7 summit in Canada that ended in disarray.
"Larry is currently in good condition at Walter Reed National Military Medical Center and his doctors expect he will make a full and speedy recovery," Ms Sanders said.
Mr Kudlow's wife, Judith, told the Washington Post that her husband was "doing fine."
Mr Kudlow joined the Trump administration earlier this year and has taken a tough stance on trade.
The US imposed tariffs on steel and aluminium imports from the EU, Canada and Mexico on 1 June, setting the scene for a tense G7 meeting hosted by Canadian Prime Minister Justin Trudeau over the weekend.
The summit ended with Mr Trudeau vowing to press ahead with retaliatory tariffs and Mr Trump retracting his endorsement of the joint statement and lashing out at his host.
Mr Kudlow has defended the new tariffs and said his boss should not be blamed for trade tensions.
After the summit, Mr Kudlow told CNN that the president and his team had gone to the summit "in good faith" but that Mr Trudeau had "stabbed us in the back."
From Wall Street to Washington
Mr Kudlow was born in New Jersey and studied at the University of Rochester and Princeton's school of public and international affairs.
His career in economics started with a junior position at the New York branch of the Federal Reserve.
He moved to work as an economist for Wall Street firms and for former President Ronald Reagan in Washington, where he helped to make the case for the first round of 1980s tax cuts.
In 1994, Mr Kudlow spoke to the New York Times about battling drug and alcohol addiction, saying he hoped his story would help others in the position. The problem had led to his resignation as chief economist from the Bear Stearns investment bank.
Mr Kudlow, who calls himself a "long-run optimist", subsequently re-invented himself as a media personality, hosting radio and television programmes, including for the business news channel CNBC, where he remains a contributor.