The tarot revival thanks to Brexit, Trump and Dior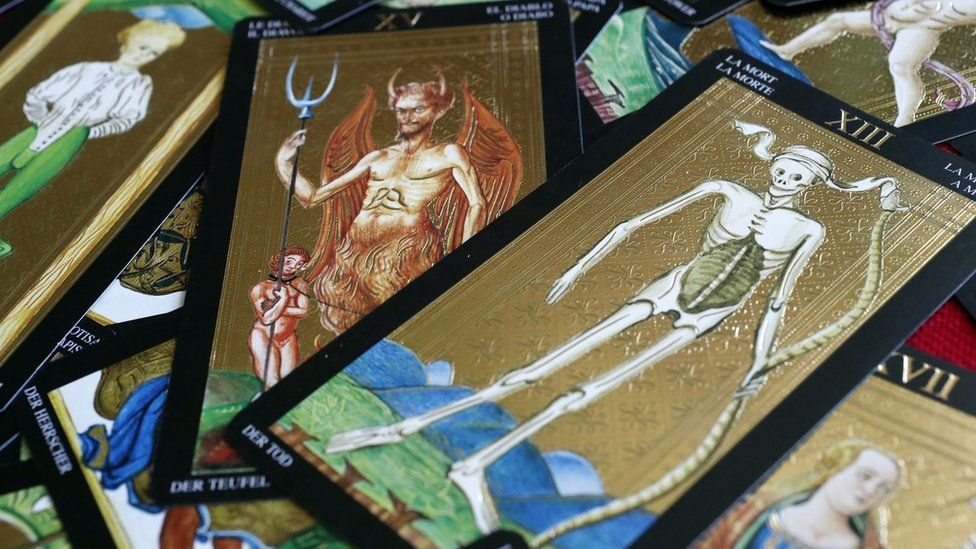 In the late 1970s, when Karen Vogel started to create tarot cards at her home in Berkeley, California, she couldn't have known that they would one day be featured on haute couture catwalks.
"We had academic backgrounds in anthropology, women's studies and history," explains Ms Vogel, who started Motherpeace Tarot with her business partner Vicki Nobel.
"We were also interested in alternative healing methods and the Goddess movement, so tarot felt like a good way to combine all these."
The feminist deck that the duo invented, which sells for around £15 ($20), attracted an international - if niche - fan base.
Then, a couple of years ago, their business took an astonishing turn.
In 2016, Christian Dior approached the former roommates with a proposal. The Paris fashion house wanted to create a collection inspired by Motherpeace's iconic product.
Outfits featuring the Five of Swords, Priestess of Wands and Death cards followed, as did a renewed interest in Ms Vogel and Ms Nobel's work.
"Our sales have been up 268% in the past six months," says Ms Vogel, before adding that the increase marks the biggest spike for the firm in almost 40 years.
And Motherpeace cards weren't the only ones to benefit from tarot being back in vogue.
According to US Games Systems, a publisher of tarot games, sales across the industry were up by 30% in 2017.
Ms Vogel credits Dior's ethereal, tarot-inspired dresses with boosting the visibility of the centuries old practice across the world.
But she insists there are other reasons for tarot's accelerating popularity.
"Our societies are going through an extreme sense of alienation," says Ms Vogel, mentioning Donald Trump's presidential victory in the US, as well as the rise of far-right groups, violence and misogyny.
"People are lonely and angry. Tarot helps them to cope with insecurity in these difficult times."
Mike Sosteric, a sociologist at the University of Athabasca in Canada, agrees.
"When we were younger, change used to be much slower and gradual. Now, the world is changing at a more rapid pace than ever," says the professor, who studies tarot, human spirituality, and the occult.
"This leads us to a time of crisis and drives people to seek big answers for big questions. Through tarot, people can mimic a sense of control."
According to Dr Sosteric, many people find it hard to relate to traditional religions, which often carry patriarchal values, and are turning instead to alternative belief systems.
The Tower card, commonly used in Trump spells, depicts a solid tower being struck by lightning, and flames emerging from small windows at its top.
Tina Gong, a New York-based designer and witch, says the rise of tarot has "everything to do with our current political and socio-economic environment".
Ms Gong combined her love of witchcraft and her coding skills to create tarot apps, as well as an online tarot school. She describes the majority of her users as young females who no longer want to be "good girls", and who see tarot as a tool for political resistance.
"The witch symbolizes everyone that has been an 'other' and that has no place or control in the world, such as women, people of colour, and the LGBTQ community," says Ms Gong.
"[Reading tarot] is to take this otherness that was used to exclude us, to shame us, and celebrate it instead."
Contrary to popular belief, tarot has long had a political purpose.
Sociologist Mike Sosteric explains that tarot, a deck of 78 playing cards with four suits, emerged in Italy in the 15th Century and has no mystical roots.
"Tarot was an ideological tool," he says.
"During the transformation from feudalism to capitalism, the ruling classes used tarot to 'gamify' the civilisation building process. The cards guided people about the new roles in the society. They helped the ruling classes to mobilise and manage the masses."
However, in times of rapid global change, tarot has transformed into a tonic for those feeling insecure about their futures - including the rich and famous.
Jayne Wallace, the founder of Psychic Sisters, has made a name for herself as a 'celebrity psychic'.
Ms Wallace, whose practice is based in Selfridges on London's Oxford Street, read tarot cards for the American celebrity Kim Kardashian West, on her Los Angeles-based television show Keeping up with the Kardashians.
"She is a person like you and me," Ms Wallace says of the reality TV star.
"She asked exactly the same questions about her life and had the same worries as any other client."
Ms Wallace, who is now 50, has been a tarot reader and psychic throughout her professional life. Back when she started out, aged 23, it seemed an unconventional career choice, but now, many more are following in her wake.
"There is much less stigma about tarot compared to 10 or 20 years ago," she says. "People are much more open-minded about it. My client base is now way more diverse."
The UK's decision to leave the European Union brought new business her way.
"We have always been busy, but it's been particularly hectic since mid-last year," explains the clairvoyant, who charges up to £120 ($160) per session.
"Since Brexit, most businesses in London are worried about their economic future. I've had bankers and people in finance coming for business advice."
While tarot's practitioners may not have reversed any political decisions, the practice remains an important self-care tool for millions.
"Control lies within, not out," says Tina Gong.
"Tarot is to reclaim that control when we feel we lack it."