Unions in World Cup match plea to bosses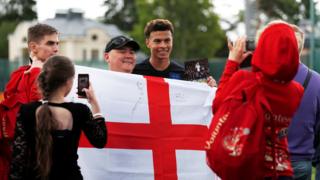 As the World Cup gets under way in Russia, the UK's trade unions have urged bosses to be flexible with staff who want to follow the football action.
The TUC says workplaces that operate flexible working can allow staff to put their hours in while still getting the chance to see all the crucial games.
"It's important employers do not score an own goal by acting like killjoys," said general secretary Frances O'Grady.
And if they can watch at work, so much the better, the TUC says.
The tournament kicks off on Thursday, with hosts Russia taking on Saudi Arabia in Moscow's Luzhniki stadium.
England's first match comes in Volgograd on Monday, when they face Tunisia at 19:00 UK time.
The TUC suggests various steps that employers can take to make life easier for football fans:
Talk to staff in advance about arrangements for key matches
Arrange for them to watch them on the company's premises if appropriate
Allow staff to work from home
Allow them to come in earlier or later
Be as flexible as possible with annual leave requests
The Labour Party has backed the TUC's call. Shadow sports minister Rosena Allin-Khan said: "As a nation, we're proud to cheer on England in the World Cup and we believe that employers should be flexible with fans supporting our national team in the coming weeks."
Conciliation service Acas also puts out guidance to employers every time there is a World Cup, and 2018 is no exception.
Its advice includes a word to bosses about the risk of high levels of absence, either due to staff skipping work to watch the football or because they are hung over from "post-match celebrations".
Other countries are taking a lenient approach. Public sector employees in Brazil will have their working hours officially altered on 22 and 27 June for their national team's matches against Costa Rica and Serbia respectively.