Stobart Group defiant after ex-boss sacked from board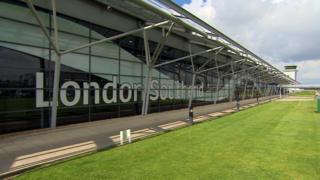 Stobart Group, the owner of Southend and Carlisle airports, has written to shareholders defending its decision to sack former boss Andrew Tinkler.
It accused Mr Tinkler of threatening to destabilise the firm by his efforts to remove current chairman Iain Ferguson.
For his part, Mr Tinkler has complained of being the target of "public mud-slinging" by other directors.
The war of words comes in the run-up to Stobart's AGM on 6 July, at which shareholders will vote on the issue.
Mr Tinkler was chief executive of Stobart Group for a decade until he stepped aside last year to focus on a firm called Stobart Capital, but remained on the Stobart board.
Stobart Group terminated his employment with immediate effect on Thursday.
Stobart said in its letter to shareholders that Mr Tinkler had "put at risk the interests of all shareholders" by trying to oust the chairman and replace him with his own nominee, Philip Day, who is chief executive of Edinburgh Woollen Mill Group.
It acknowledged Mr Tinkler's "entrepreneurial flair", but said "a different management style" was now needed.
Mr Tinkler has said Stobart needs "strong corporate governance, which has been sadly lacking of late".
Legal battle
In recent weeks, Stobart Group has begun pursuing Mr Tinkler in the courts for a tax liability it says is worth £3.8m plus interest.
The firm accuses Mr Tinkler of "breach of contract and breach of fiduciary duty", while Mr Tinkler has begun legal proceedings over "defamatory statements" made about him.
The dispute between Mr Tinkler and Mr Ferguson erupted after Mr Tinkler came up with a proposal late last year to buy the airline Flybe.
Relations deteriorated between Mr Tinkler and the firm last month, when he told the board he planned to oppose the re-election of Mr Ferguson as chairman.
Mr Tinkler, former director Allan Jenkinson, and Neil Woodford of Woodford Investment Management have banded together to try to oust Mr Ferguson. Together, they control about a third of the shares in the company.
However, Invesco, which has a 24% holding, has declined to support the move.
The firm responded on 29 May by advising investors to re-elect Mr Ferguson. Mr Tinkler has alleged this letter was defamatory and is suing five directors.
Stobart Group, which is worth more than £800m, is separate from the road transport firm Eddie Stobart Logistics. That firm is also listed on the London market and is worth just over £500m.