Water firms failed customers during 'Beast from the East'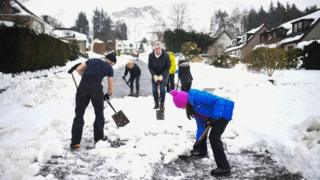 Some of the UK's biggest water companies did not support customers properly during this winter's Beast from the East snow chaos, causing "significant hardship", Ofwat has said.
The regulator said more than 200,000 customers were left without water for more than four hours and tens of thousands were cut off for days.
It accused firms of bad planning, communication and a lack of support.
Severn Trent, South East, Southern and Thames Water performed worst, it found.
The regulator also said it was concerned the £7m of compensation paid out to customers may not have been enough and that it would review existing guidelines.
Ofwat chief executive Rachel Fletcher said: "The freeze and rapid thaw earlier this year was forecast and was not unprecedented.
"But too many companies were caught off guard and let people down, causing real hardship as a result. Our report shows there is no excuse for this level of failure."
Speaking to BBC 5 live's Wake up to Money programme, she said: "There is a huge amount to do to learn some lessons. The industry as a whole really needs to step up to make sure the next time something like this happens, customers are much better served."
The icy spell in late February and early March led to a big increase in the number of burst water mains and in customers' own water pipes as frozen pipes thawed.
But Ofwat said that while suppliers' frontline staff worked tirelessly to fix the issues, higher up some firms lacked proper emergency response plans.
Citing survey data from the Consumer Council for Water, Ofwat identified common failings, including:
Almost three-quarters of customers whose water supply was disrupted did not receive alternative supplies of water
There was limited or inaccurate data on where problems were occurring and whether they had been resolved
Only 60% of affected customers received direct communication from their supplier
Stakeholders such as councils, schools and emergency services received "little or no" proactive communication "before, during or after the event".
"In some cases, customers were left to fend for themselves, or depend upon the support of local bodies or volunteers," it added.
Ofwat said all water companies in England and Wales needed to improve, but it has asked Severn Trent, South East, Southern and Thames Water to publish action plans by 28 September setting out how they would do better next time.
"We will take action if they don't rise to this challenge," Ofwat said of the four.
Ms Fletcher told the BBC that punishments had already been imposed, saying: "We managed to get £120m from Thames Water for failing to meet their leakage commitments to customers.
"We have strong fining powers and we're not afraid to use them."
Ofwat also said current compensation arrangements "were not reflective" of the impact on customers of being without water for a prolonged period. As such, it will consult on tougher rules obliging firms to provide customers with "resilient supplies".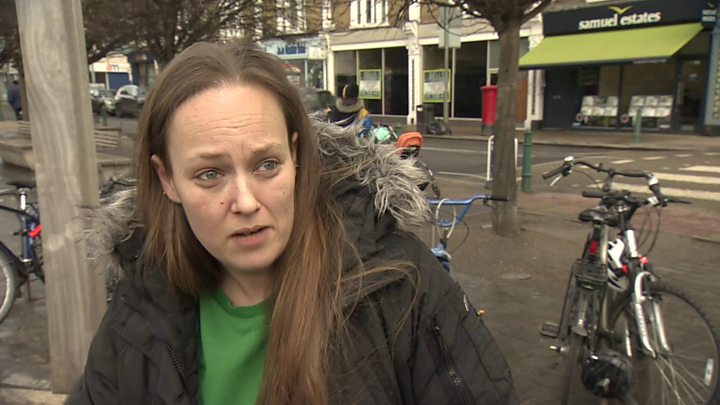 In a statement issued on behalf of the four worst performers, industry body Water UK said fewer than 3% of all customers in England and Wales were affected by supply disruptions during the extreme weather.
However, it acknowledged significant numbers had experienced "disruption and hardship".
A spokesman for Severn Trent said: "We'd like to apologise again to our customers who were affected during the extreme weather in March. Customers rightly expect water whenever they need it, and we've been working hard since March to make improvements to our incident response processes."
Steve Robertson, boss of Thames Water, said: "I am pleased Ofwat has recognised that frontline staff worked tirelessly in extreme circumstances to restore customer supplies. As the report notes, we rapidly increased water production by 15% to minimise disruption."
He said the scale of leaks and bursts was "the worst in living memory" but added: "We're really sorry we could not protect those customers impacted."
Labour has been putting pressure on the government to tackle what it describes as "scandalous" profits made by private water companies.
In February, shadow chancellor John McDonnell said suppliers had paid out £13.5bn in dividends to shareholders since 2010, while claiming tax breaks and pushing up prices for millions of consumers.
The party has pledged to renationalise water, energy and rail companies if it wins the next election.
However, the government said the plan would cost taxpayers billions of pounds and lead to worse services.