Rural residents hang up on mobile banking, regulator finds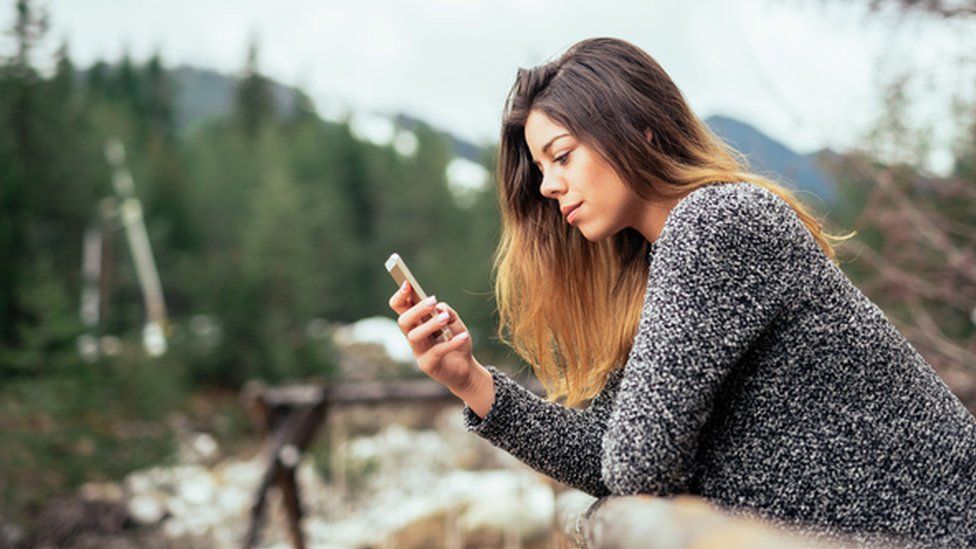 Consumers in rural areas of the UK are far less likely to use their smartphones for banking than their urban counterparts, a survey says.
The findings, from the UK's financial regulator, are set to reignite the debate over bank branch closures - particularly in rural locations.
However, its report also suggests that those in rural areas are more satisfied with their financial circumstances.
The Financial Conduct Authority also exposed a north-south savings divide.
The data comes from a renewed assessment of a survey of 13,000 people's financial lives by the FCA.
The survey, first published in October last year, found an estimated 4.1 million people are in financial difficulty due to missed domestic or credit bills.
An older population and patchy broadband and mobile coverage will be among the reasons for a take-up rate of just 23% in mobile banking and a 54% take-up of internet banking in rural areas, compared with 45% and 78% respectively in urban areas.
The report also reveals there is greater reliance on bank branches in rural areas, but also more difficulty in reaching those branches owing, in part, to health conditions.
Andrew Bailey, FCA chief executive, said: "This survey shows just how different the experience of financial services is for consumers across the country. That's important for us, as we shape financial services policy. But it is also important for firms, as they decide how best to serve their customers."
The report comes shortly after consumer group Which? reported an "alarming" acceleration in bank branch closures, with about 60 closing every month. It found that 2,868 branches will have closed between 2015 and the end of 2018.
It questioned the use of technology as a viable alternative, but banks said closures of branches were a last resort and that Post Offices served many of the same functions.
"Looking after every customer, especially those in vulnerable circumstances, is a priority for the financial services sector," a spokesman for banking trade body UK Finance said.
"We will read the findings of the FCA's report with interest and look forward to working closely with the regulator to support customers".
Hannah Maundrell, from comparison website Money.co.uk, said: "Millions of consumers in the UK are facing financial difficulty due to missed bills - without easy access to sort out these sort of debts, the lack of branches coupled with a lack of decent broadband and mobile signal in rural communities could create a perfect storm and really needs to be investigated."
The FCA's report also revealed that household average income in rural areas, at £41,000, was lower than the national average of £46,000. Just over half of retired people in rural areas relied mainly on the state pension, compared to 37% in urban areas.
Yet, the proportion of people in the countryside who said they were highly satisfied with their financial circumstances (27%) was greater than those in towns and cities (20%).
That may be a response to the fact that debts in rural areas are generally lower than the national average.
The FCA's main report, published last year, revealed that 25.6 million consumers could be vulnerable to financial harm.
This new analysis of the figures outlines a regional difference, with a notable north-south divide in terms of income and levels of saving.
For example, the north east of England has the lowest levels of savings and investments of any English region, with 17% of adults in the region not holding any savings or investments at all. This compares to 15% in the north west of England, 10% in the south west and 8% in the south east.
Incomes are lower in these northern regions, although mortgage debts are also among the lowest.
The survey suggests that attitudes towards finances in Northern Ireland are "more downbeat" than the rest of the UK.
Two-thirds of adults (67%) in Northern Ireland have no cash savings or savings of less than £5,000, compared with 57% of adults across the UK.
It also has the highest levels of debt across the UK, with adults in Northern Ireland owing £3,990 on average in unsecured debt.
This is the first survey of its kind by the FCA. The next data on residents' financial circumstances will be collected in 2019.