Trump tariffs: Markets fall as trade war fears mount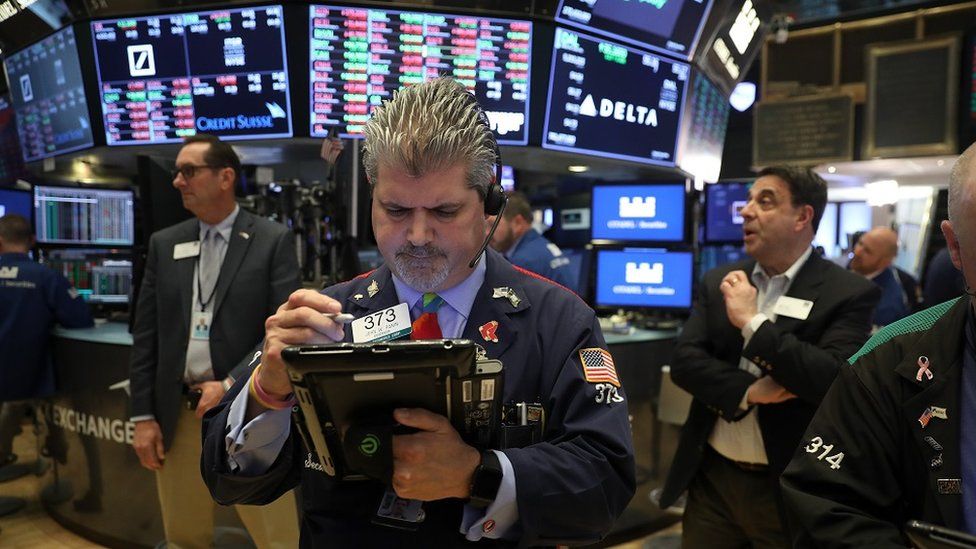 Stock markets have fallen around the world in the wake of President Trump's latest tariffs threat to China.
The Dow Jones closed down almost 1.2% or 287 points after Asian and European markets fell sharply earlier.
The US president said the tariffs would be imposed if China "refuses to change its practices".
He condemned China's "unfair practices related to the acquisition of American intellectual property and technology" and added: "Rather than altering those practices, it is now threatening United States companies, workers, and farmers who have done nothing wrong."
The markets reacted badly with China's Shanghai Composite faring the worst in Asia, ending the day down 3.8%.
In Europe, Germany's Dax index was down 1.2% by the close and France's Cac 40 had lost 1.1%.
London's FTSE 100 ended the day at 7,603.85, a fall of 27 points or 0.36%.
In the US, the losses on the Dow thrust the index into negative territory for the year, with firms with business in China, such as Boeing, driving the index's sixth day of declines.
The S&P 500 and Nasdaq also fell, closing down 0.4% and 0.3% respectively.
"The fear from here is a continued back and forth, escalating trade penalties on both sides with a further negative impact on growth," Stifel Chief Economist, Lindsey Piegza said.
Away from Mr Trump's dispute with China, Russia said it would impose tariffs on certain American goods in response to the recent tariffs placed on steel and aluminium imports by the US.
Russia's Economy Minister, Maxim Oreshkin, said the tariffs would target goods of which the Russians already had domestic equivalents.
How did the latest spat unfold?
Last week, Mr Trump confirmed that the US would impose 25% tariffs on $50bn worth of Chinese goods, alleging theft of intellectual property and other unfair trade practices.
Beijing responded by saying it would hit 659 US products worth $50bn - including agricultural products, cars and marine products - with a similar tax.
Late on Monday, Mr Trump said the US would impose additional tariffs at a rate of 10% "if China refuses to change its practices, and also if it insists on going forward with the new tariffs that it has recently announced".
He ordered his staff to draw up a list of goods worth $200bn and threatened to slap tariffs on a further $200bn of goods if China retaliates.
China's commerce ministry reacted swiftly, saying: "If the US acts irrationally and issues a list, China will have no choice but to take comprehensive measures of a corresponding number and quality and take strong, powerful countermeasures."
The US continued to press China on trade issues on Tuesday.
The Department of Commerce said it would impose new import duties on a common alloy aluminium sheet after finding that Chinese firms were selling it in the US at more than 167% below cost. A final determination is due in October.
Mr Trump's trade adviser, Peter Navarro, told reporters that China may have "underestimated" the president's resolve in earlier negotiations.
"That was a miscalculation," he said.
'Encourage collaboration'
A paper published by Canadian think tank the CD Howe Institute suggests that Mr Trump's threats are having an effect on US manufacturing by using "uncertainty as a new weapon in trade protection".
Its study says that uncertainty acts like a non-tariff barrier to impede trade and investment by encouraging American companies to move factories back to the US and reduce incentives for US firms to invest abroad.
And in a speech later on Tuesday, the UK's international trade secretary, Liam Fox, will call on nations to stop using tariffs and similar measures as the first course of action in trade disputes.
Instead countries should "encourage collaboration" through multilateral bodies such as the World Trade Organisation (WTO), he will say.
Dr Fox will say the WTO should be encouraged to "operate more effectively in supporting the global economy" and tackle a range of issues including transparency of ownership and intellectual property issues - especially forced technology transfer.
"China must play its part, opening its markets and ensuring compliance in all these areas.
"Unless we maintain an open and liberal global trading system, reducing tariffs and non-tariff barriers, we will put at risk future jobs, growth and prosperity."
How has the dispute escalated?
January 2018 - The US announces tariffs on imported solar panels and washing machines
March - Mr Trump unveils plans for a 25% tariff on steel imports and a 10% charge on aluminium
April - China announces tariffs on US imports ranging from 15% to 25% on goods ranging from steel pipes to pork
May - The US and China put tariff plans "on hold" after talks
June - Mr Trump decides to push on with plans to impose tariffs in July
A potential political cost
BBC economics correspondent Andrew Walker
Being tough with China plays well with many of President Trump's supporters, actual and potential, at a time when he is looking ahead to the Congressional elections in November.
It could also be that he thinks China will run out of US imports against which to retaliate.
After all, the US sells much less to China than the other way around.
But there is also a potential political cost for the president. Many in the Republican Party, who are more instinctively in favour of free trade, don't think this is the right way to tackle problems with China.
And as Mr Trump increases the range of goods subject to tariffs it becomes harder for American importers and consumers to avoid the cost by finding alternative suppliers.
In the separate dispute about steel and aluminium tariffs, he also has to contend with the politically targeted retaliation that other countries such as Mexico, Canada and the EU have in hand, intended to hit important states in the mid-term elections.